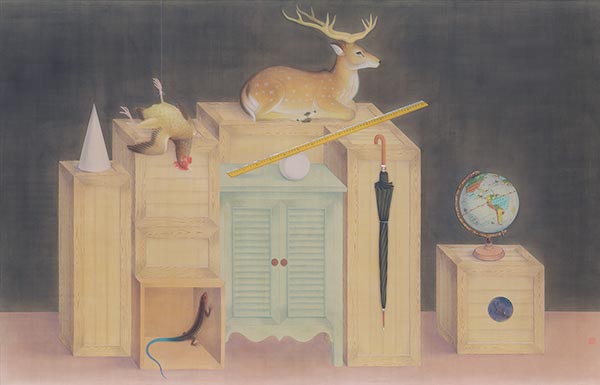 Puzzle by Zeng Zhiqin. [Photo provided to China Daily]
Chinese ink painter Zeng Zhiqin, 31, paints on silk because he prefers its delicate texture compared with the traditional xuanzhi (rice paper).
He applies cooler color tones and paints geometric objects on the silk to give it an "uncomfortable, rough" feeling.
His solo exhibition, titled Coincidence, at Beijing's Hive Center for Contemporary Art, has dozens of such ink works in which one can feel tension, restraint and mystery. It runs until July 9.
Zeng says that despite working with ink — a traditional medium — his generation of artists have grown up in an era of information and globalization. So he does not want to particularly stress on the inheritance of tradition in his work. Rather, he is open to different thoughts and lets them take root in his mind and sprout.
"Chinese tradition is one river and Western art is another. I'm a person who just has a scoop of water from the point where the two streams meet, and then moves on.
"Ink is what I'm more familiar with. That's all," he says.
Related:
Li Yansheng paintings displayed at Rongbaozhai
Top 10 Chinese painting and calligraphy sales at spring auctions