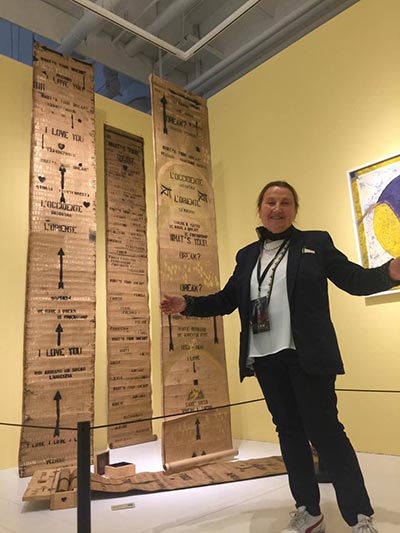 Angela Occhipinti displays her paintings and lithography works in Beijing. [Photo provided to China Daily]
Italian artist Angela Occhipinti conveys through her works a sense of uncertainty about the future, particularly the fate of humans. But at the same time, she also suggests a positive attitude of embracing the unknown with love, which is a recurring motif of her creations.
"Although love sometimes hurts, it helps people better understand others," says the 83-year-old retired professor of the Academy of Fine Arts of Brera, in Milan.
During her long career, Occhipinti has largely worked on painting and lithography.
"Painting is like writing a novel while lithography is like a poem. Painting feels like Chopin's music while lithography feels like Beethoven's."
Occhipinti is showing the two approaches of communicating with the world at her second solo exhibition in China, currently being held at Beijing's Riverside Art Gallery.
Titled Angela Occhipinti, the show displays several of her large paintings, a lengthy handmade book-works of art in the form of a book-and lithographs.
Her signature Constellation series of paintings unfolds the mystic imagery of the universe.
With gold powder, she draws shooting stars to represent the occurrence and disappearance of illusions in people's minds. In Yellow River and Life, another series, she attempts to interpret how ancient Chinese viewed links between heaven and Earth, based on her several visits to China.
Her forceful brushstrokes on large color blocks give an immensity to her works.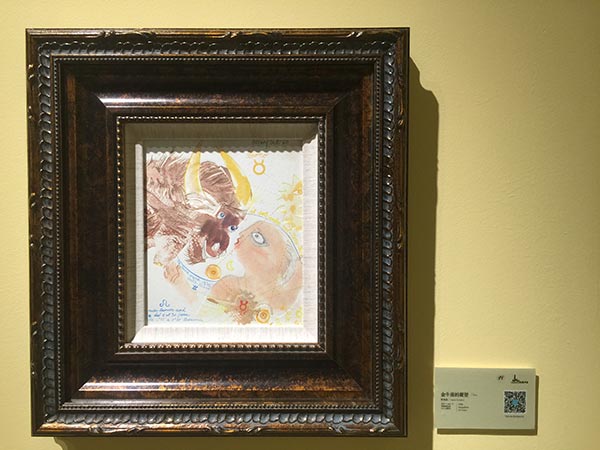 Angela Occhipinti displays her paintings and lithography works in Beijing. [Photo provided to China Daily]
Occhipinti was born in Perugia and now lives in Milan. She says she was lucky to have grown up surrounded by people related to art. Her father was in the business of architectural decoration and her mother collected classical paintings. Her uncle was a sculptor who had introduced her to many artists, and she began learning lithography in her teens.
She has worked at several famous studios and with established artists, such as in English painter Stanley William Hayter's studio in Paris and Italian printer Giorgio Upiglio's studio in Milan.
A brief interaction with Pablo Picasso at the Mourlot studio in Paris also influenced her creations for long. The printing studio was where many master artists experimented with lithographic techniques, including Henri Matisse and Joan Miro. Occhipinti visited the studio for the first time as an assistant of her teacher, engraver Giuseppe Viviani.
She was 16 years old when she saw Picasso there who eagerly waited for his lithographs to be printed, "just like a small boy anticipating a gift", she recalls.
During her 20-day stay at the Mourlot studio, she created her own works and also helped prepare acid of varying densities for Picasso to process his etchings.
"I used almost everything in my pocket as painting tools, including coco powder, snacks and eyeliners. Picasso sometimes came to watch me drawing with these daily-use items. When I finished, he would say, 'It doesn't look bad.'"
She likes Picasso's lithographs although they are largely black, white and gray, and it is because the fewer colors one applies, the more difficult it becomes to handle them on a single surface.
At the Beijing exhibition, she's showing a lithograph titled Toro, which she produced in 1960.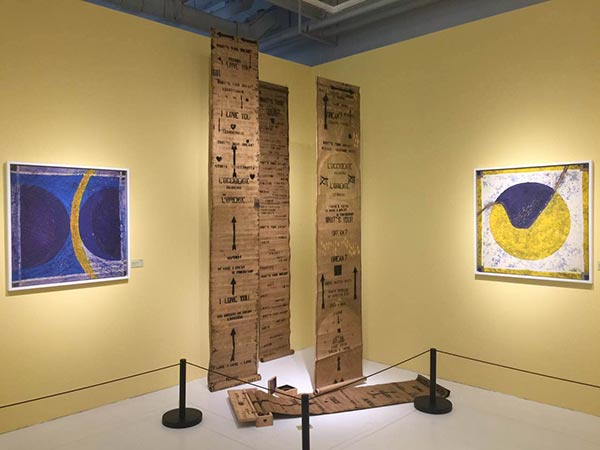 Angela Occhipinti displays her paintings and lithography works in Beijing. [Photo provided to China Daily]
The tribute to Picasso portrays a man and a bull. Picasso revisited the bull motif in his lithographs as an "incarnation" of himself.
"Many contemporary artists don't dare to venture deeply once they are seen to have established a style of work," she says.
"What I've learned from Picasso is that he never stopped exploring different motifs and mediums, even after he achieved fame."
Occhipinti believes art is far beyond just exploring with techniques.
"Skill learning is after all for one to create freely and with imagination."
Wang Ji, one of her friends, says, "One can read Angela's thoughts of the universe in either her powerful installations, imaginative paintings or elaborate lithographs.
"Inside the body of this woman in her 80s, there is a little girl who always embraces the beautiful sides of the world."
If you go
Through Aug 8. Riverside Art Gallery, Hongyan Road, Chaoyang district, Beijing. 010-5309-2066, 010-8736-7099.
Related:
Capturing art at Photofairs Shanghai