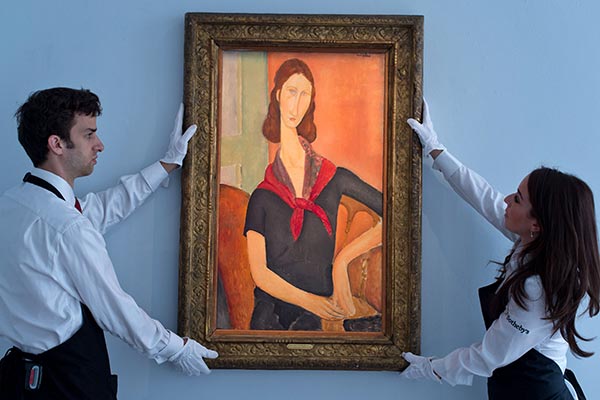 Amedeo Modigliani's Jeanne Hébuterne (au foulard). [Photo provided to China Daily]
The love between Italian painter Amedeo Modigliani and his French lover and muse Jeanne Hebuterne is all about devotion and tragedy.
Despite a 14-year age gap, they were together for three years during which Hebuterne modeled for Modigliani's many portraits, mothered his daughter, and committed suicide — while heavily pregnant — one day after his death.
Jeanne Hebuterne with Scarf, a portrait to be auctioned in London on June 21, pays tribute to the poignant relationship.
In the painting, Hebuterne is portrayed in the signature female form featuring geometric simplification and elongated neck that distinguishes Modigliani's output. The usual almond vacant eyes in Modigliani's other female portraits are replaced in this piece with a piercing blue pair.
The painting has been in a private collection since 1986 and is expected to fetch more than $40 million, according to a news release of its auctioneer, Sotheby's.
The painting will appear in an evening sale of impressionism and modern art. There is also a Picasso portrait of his lover Fernande Olivier, titled Femme Assise (sitting woman).
The current auction record for Modigliani is Reclining Nude which was sold to Chinese collector couple Liu Yiqian and Wang Wei for $170 million, at Christie's New York sale last November.
Related:
Classical Chinese paintings stand out at Beijing auction