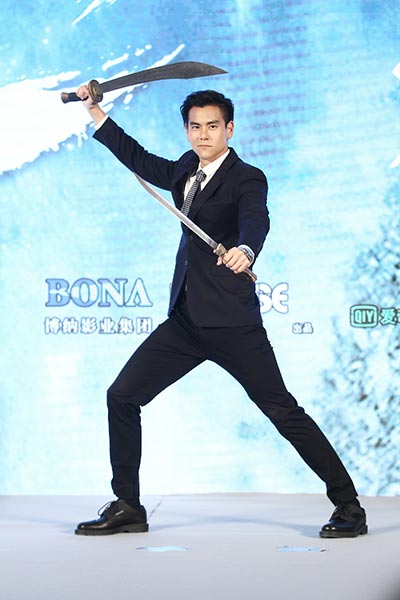 Eddie Peng. [Photo provided to China Daily]
Chinese-Canadian actor Eddie Peng reveals recently that the film Call on Heroes creates a "humiliating" milestone in his glittering star career.
To shoot a fight sequence against Wu Jing, a former national martial arts champion and now an established actor and director, Peng failed many times to meet action director Sammo Hung's demands.
The scenario was photographed up to 56 times, which took six hours, to finally gain a pass. The major photography was taken in Shaoxing, Zhejiang province.
"I felt pretty sorry to the crew and another actors," says Peng, during a recent Beijing event.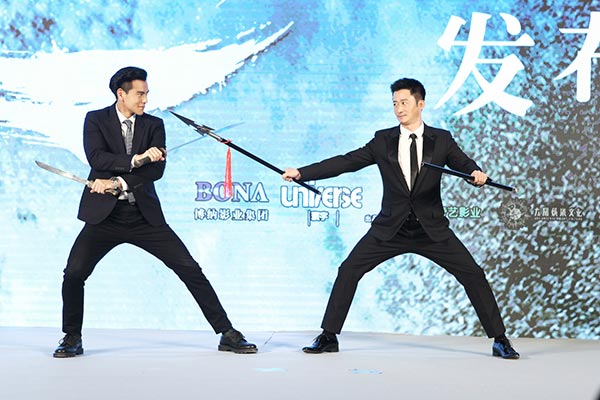 Eddie Peng (left) and Wu Jing. [Photo provided to China Daily]
Directed by Hong Kong veteran Benny Chan, the action thriller is set for a summer release; the producers won't confirm a date, only saying it will be released in August.
Alongside Peng and Wu, Hong Kong stars Sean Lau and Louis Koo star in the feature.
Beginning from the murder of three innocents, the film revolves on the push-pull of opting for justice or yielding to power. The killer is the son of a powerful warlord, who threats to slaughter all the residents in the city if his son is sentenced to death.
"In the turbulent years that power outmatches law, the public needs some heroes to guard justice," explains Chan.
Related:
19th SIFF to tightly follow film industry trends
Centennial German sailor's club believed first cinema in China