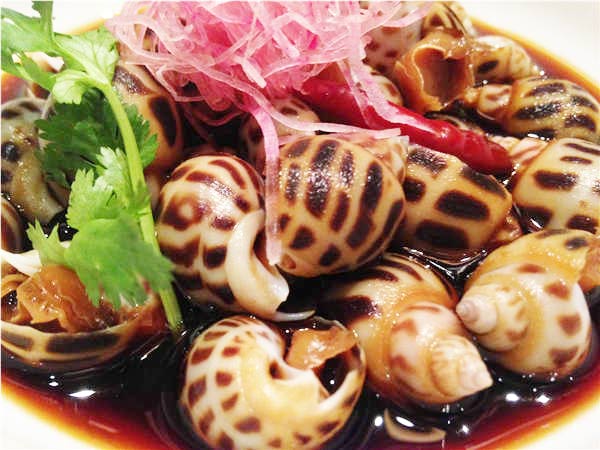 Specially preserved snail is a signature dish of Seafood House in Ningbo, Zhejiang province. [Photo by Xu Xiaomin/China Daily]
Dongqian Lake is a magnet for fans of the region's best fare, Xu Xiaomin reports on a return visit to Ningbo.
It is said that about one-third of Shanghai people have origins in Ningbo, a coastal city in Zhejiang province. I am one of them-my grandfather moved his family from Ningbo to Shanghai in the 1940s, when the two cities already enjoyed an easy connection by water.
So it's no surprise that Ningbo cuisine, which features a salty taste and fresh fare from lake and sea, enjoys huge popularity. Even though Shanghai has lots of Ningbo restaurants, when I miss those flavors I like to go back to Ningbo for a fresh and authentic taste, as the journey now only takes two hours by high-speed train.
A signature dish I miss most is fish-head soup, and Seafood House along Dongqian Lake, well-known for its fresh catch from the lake, serves up a superior example.
Dongqian Lake is the largest freshwater lake in Zhejiang province. Surrounded by green hills and shadowy woods, it offers the region's freshest live fish and has become a destination for enjoying good food as well as a nice view. Because the lake is vast with a winding waterfront, it contains a high level of oxygen that makes the big-headed carp here taste fresh and tender without an earthy smell, according to chef Yu Kebin of the Seafood House.
"If you have a good quality fish head, it is not necessary to make it complicated, just cook it in a simple way to keep its original taste and texture," says the chef, who was born in a fisherman's family on the bank of Dongqian Lake.