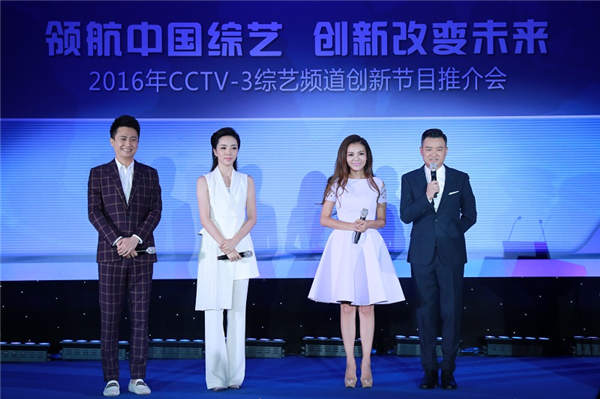 CCTV hosts Yang Fan, Li Sisi, Zhu Xun and Li Jiaming (from L to R) speak during a promotion at the Media Center in Beijing, on June 15, 2016. [Photo provided to chinadaily.com.cn]
China's national TV channel, CCTV-3, is poised to attract more viewers with seven new shows later this year.
The arts and entertainment channel has been dedicated to innovation in the fast-changing and entertainment-blooming era. The new TV shows have been designed to follow the latest trend and get people to know more about the traditional Chinese culture in a more interesting way.
Among the new shows is The Reader, famous hostess Dong Qing's debut show as an independent producer. The show, inviting noted actors and influential guests to read for audiences, aims to bring beauty and poetic flavor to the bustling modern society. Ancient poetry, modern poetry, classic literature and classical fragments from TV shows, films and dramas will be read during the show, with each episode focusing on one subject.
National Treasure, another original show focused on the popularization of traditional Chinese culture, is designed as a treasure hunt journey, which will invite top scholars such as Ma Weidu, Feng Jicai alongside celebrity guests like Yu Qian and Jeff Chang.
Good Good Study, to be aired during the summer holiday, will present lively public classes to students who may spend plenty of time watching TV during their summer vacations. Celebrated figures from different fields, such as athletes, businessmen, singers and actors will host their classes. The 13-episode program aims to make the public classes educational, interesting and fashionable as well.
The TV program Chinese Folk Music Show will explore beautiful and touching folk music around China and showcase excellent folk musicians on the national stage, who may be peasants or from various ethnic groups. The show also tells many stories behind the folk songs and the musicians.
And because square dancing is getting heated in China, an interactive variety show in which square dancing teams compete with each other is also among CCTV-3's broadcast agenda. Surrounding this year's Olympics, the TV show Let's Get Gold, inspired by the UK, will bring audiences a sensual enjoyment by showing extreme sporting performances.
Also, the second season of Ding Ge Long Dong Qiang, reality show themed on cultural inheritance, will be released soon to present the tradition in a cooler way. The show averaged 40 million viewers each episode during its first season.