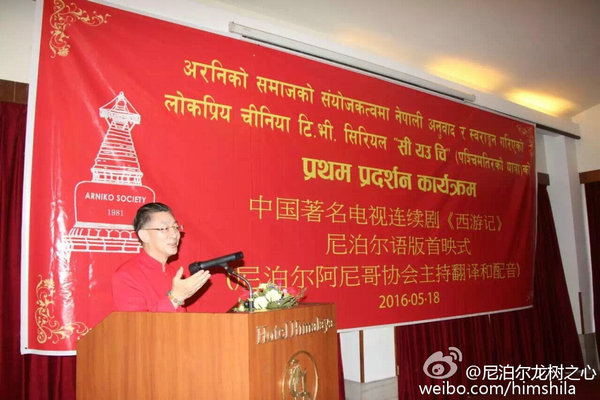 Zhang Jinlai gives a speech at the premiere of the Nepali version of the 1986 TV series Journey to the West, Kathmandu, Nepal, May 18, 2016. [Photo/Sina Weibo]
The premiere of the Nepali version of the 1986 TV series Journey to the West launched in Kathmandu in Nepal on May 18.
The series has been broadcasted in many countries, including Myanmar, Thailand, Ghana and Tanzania.
Zhang Jinlai, or Liu Xiao Ling Tong, played the Monkey King (Sun Wukong) in the series, and was invited by the Nepalese government to the premiere.
"In the past 34 years, the series has been broadcasted for more than 3,000 times with a total audience of 6 billion . I am very glad that it can come to Nepal too. Like the Hindu god Hanuman that is widely respected by Nepalese people, Monkey King also punishes devils and brings peace to people. I believe he will also be popular in Nepal," Zhang said.
The translation of the TV series started in 2013, with the support from the Chinese Embassy in Nepal and volunteers who teach Chinese in the country. It was originally scheduled to be broadcast in 2015, the 60th anniversary of the establishment of the diplomatic relations between China and Nepal, yet was postponed due to the April 25 earthquake in Nepal last year and other reasons.
In 2016, the Year of the Monkey, the Chinese Monkey King finally can find his way onto TV in Nepal.
During the premiere, the attendees watched episode 6 together and were moved by Monkey King's wit and humor. Zhang also introduced his stories about the filming of the series to the participants.
Some 150 Chinese and Nepalese officials and representatives attended the premiere and the press conference.