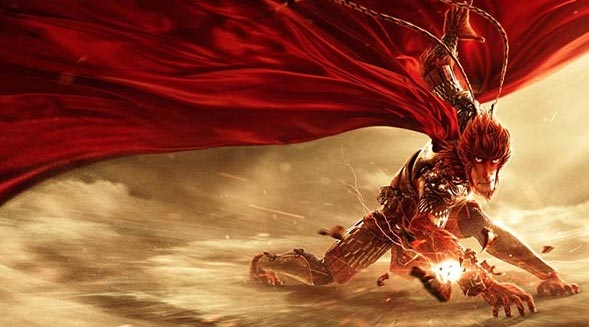 A scene from Monkey King: Hero is Back. [Photo/Mtime]
Chinese animation blockbuster
Monkey King: Hero is back
, which grossed $150 million in China, has hit the Russian box office, as more and more Chinese
film
s are testing water in overseas markets.
It is not easy for the movie, but Muscovite said it's an unforgettable picture, impressed by its technologies and techniques of storytelling.
"I like the animation very much. When I was a kid, I saw a similar Monkey King cartoon. I'm familiar with the story plots," said a middle-aged Moscow filmgoer.
"The cartoon is based on a Chinese fairy tale. My son likes it," said a mother outside the cinema with her five-year-old kid.
The animation has also gained thumb-ups from professionals. Olga Zinyakova, marketing director of Karo Cinema Chain, one of the fastest-growing operators in Russia, said she was stunned by the use of technologies.
"This is great and is a real masterpiece of Chinese production, which was made without any support from Western companies. And the animation technologies are so great," she said.
Zinyakova said the movie was unfolding within a rather dynamic plot and martial art scenes.
"This very cartoon is a kind of animated blockbuster which has a lot of action and humor. Heroes are sometimes funny and sometimes scary, mysterious and fantastic, and, to a great extent, they are folk heroes and are really interesting to our viewers," she said.
The movie has generated positive reviews by word of mouth. Nevertheless, it is still far behind Disney cartoon Zootopia and domestic production Smeshariki on the Russian box office list.
"The competition is intense on the market. Each week we have something like 10 new movies including Hollywood, Russian and European movies. Of course, it is not easy for the newcomers. Another thing is economic situation, which influences income of families," said Zinyakova.
To make Chinese films more competitive, Zinyakova suggests Chinese producers do more promotion in the Russian market, like inviting stars to meet with fans. Attending film festivals is also effective.
China produced nearly 1,000 films last year. With the box office record rising fast, Chinese films are also taking steps to tap the overseas markets.
Russia's big cinema chains introduced less than five Chinese movies each year, which experts said was not enough for Russian audience.
Zinyakova suggests that Chinese movie producers work with a big distributor in Russia to show Chinese movies regularly.
Many Russians are fans of Zhang Yimou, Feng Xiaogang, Ang Lee and Wong Kar-Wai films, mostly films with a distinctive Chinese flavor.
Labina, a student of history at Moscow University, said she likes Zhang's To Live, Red Sorghum and Raise The Red Lantern, as well as another famed Chinese conductor Jiang Wen's In the Heart of the Sun.
"When I watch these movies, I have been unconsciously getting into the environment and traveling back to the era presented by the movies. I could feel the joy and sorrow of the roles in the films," she said.
Labina also found Feng's If You Are the One affecting, which features interesting Chinese values and sense of humor and universal values.
She likes Under the Hawthorn Tree directed by Zhang, too.
"I was weeping all the time. Usually Chinese-style love story is a bit difficult for us because it needs audience to know a bit about Chinese culture and characters of Chinese people," she said.
Chinese productions earned over $400 million in overseas markets in 2015, up nearly 50 percent year on year. But that remained modest compared with the booming domestic market.
While story telling with a human touch is key to success in the overseas markets, it is also essential to have good translation and promotion, Zinyakova said.
At this year's Moscow International Film Festival, Wolf Totem, a China-France co-production, will be the opening film.
With a fast growing Chinese movie industry and warmer China-Russian ties, Chinese films are believed to have promising prospects in Russia.
"The very good communication between our countries helps us know more about Chinese films. There are a lot of movies which have never been shown in Russia. They will find their audience here," said Zinyakova.
Related:
'Monkey King' performer revives Peking Opera troupe