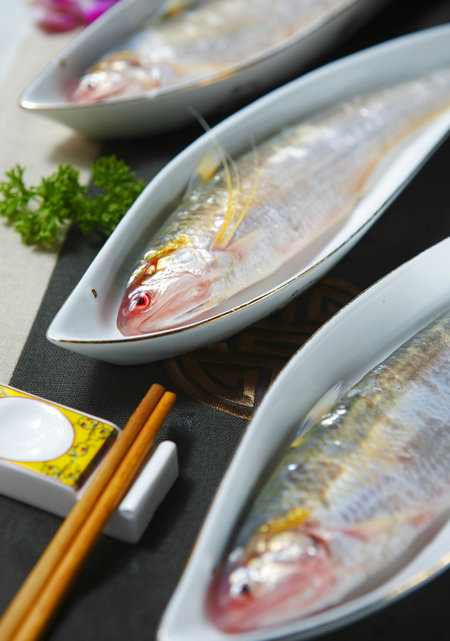 The knife fish is considered one of the three most precious delicacies from the Yangtze River. [Photo provided to China Daily] 
When Chen Wanqing set out in pursuit of the knife fish along the Yangtze River last month, the 40-year-old former chef says he had "subconsciously" awaited the pleasure for a year. He and his buddies "reunite in the name of the knife fish" every spring, as they have for the past 15 years.
The anticipation has become keener in recent years as the quest becomes almost fruitless: It's now more of a "fun trip" than a food trip for the native of Yangzhou, Jiangsu province, where the knife fish is considered one of the three most precious delicacies from the Yangtze. Like pufferfish and Reeves' shad, its rarity means that gourmands like Chen will be lucky to have a chance to savor it.
Next year it may be impossible. The Ministry of Agriculture began soliciting public opinion in December on listing the knife fish and the shad in the Yangtze as protected species. Chen, now the vice-general manager of Yangzhou State Guesthouse, has seen prices soar to record highs, and an unprecedented surge of diners all over the river delta region chasing a last bite of "the fish to be forbidden".
At Shanghai's century-old Lao Ban Zhai restaurant, which offers knife-fish soup noodle every spring, thousands of bowls have been sold this year at 30 yuan ($4.65) each. A cashier who has worked there for more than 40 years says there is "little time to take a sip of water" during lunch and dinner hour.
In truth, one can barely find any fish in the milky-white broth, but it doesn't really seem to bother diners who have waited for hours in line.
"The magic of the fish is that even where it has a quick swim, there is the savory taste," jokes a middle-aged diner, who claimed to "drink the water in which the knife fish swims" every year at the restaurant.