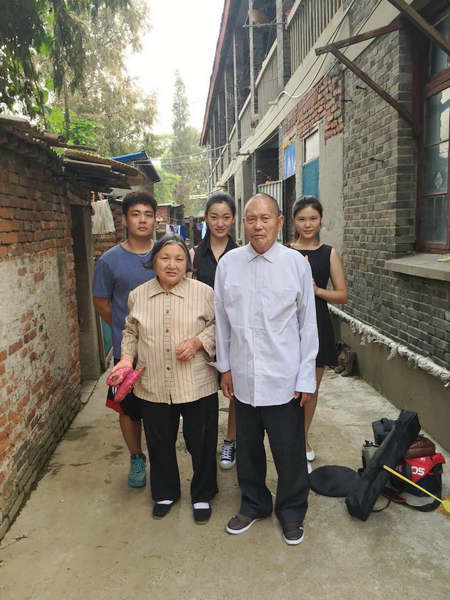 Gu Haoyuan (far left, second row) and his team from Shandong University of Arts interview his grandparents. [Photo provided to China Daily]
A nonprofit is urging more Chinese to engage with their genealogies through a project, titled "Family, Spring and Autumn".
The annual program asks college students to record their family histories orally and present short documentaries that are judged by a professional panel.
Founded in 2014 by Cui Yongyuan, formerly a popular TV anchor, the Beijing Yongyuan Foundation aims to back efforts by ordinary people to preserve family trees through interviews and video recordings.
The nonprofit awarded prizes to the top videos for this year at a function in Beijing on Sunday.
Though symbolic in nature, the ceremony is meant to encourage young Chinese to participate in the project.
"I interviewed my great-grandmother, my grandmother and my father to trace our family history," says Pan Chao, a student of Beijing University of Chemical Technology.
"While they are my closest relatives, I began to understand them better once I saw them narrating their stories in front of the camera."
Pan, whose roots lie in southern China, says older generations in his family have given him something that will transcend time.
"I will show the video to my children and tell them where we came from, if they aren't able to see my hometown in the mountains firsthand."
Cui says: "Oral history can complement history books that often neglect people's habits or anecdotes. It can even correct wrong records and overcome stereotypes."
According to Xiang Xiaojing, also from the nonprofit, the project last year featured 147 short documentaries that were submitted by some 100 colleges nationwide.
The themes covered a wide spectrum-from dying folklore in the countryside and patients of rare diseases to war veterans.