Painter asks people to probe his mind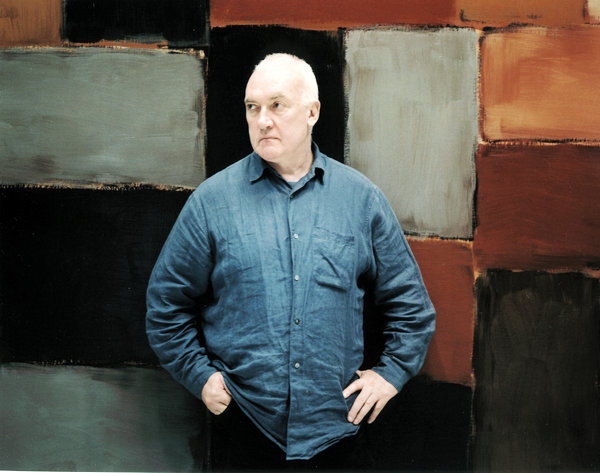 Sean Scully stands in front of one of his abstract paintings that features blocks. [Photo provided to China Daily]
Sipping an espresso, Sean Scully, 71, is fighting the weariness that an international artist has to face today because of extensive travel in a globalized art world.
An exhibition of the Irish-American abstract painter opened at the Art Museum of Nanjing University of the Arts, on Friday, throwing Scully into another round of media interviews and academic activities in the capital of East China's Jiangsu province.
On March 22, he was in Hong Kong to receive this year's Harper's Bazaar Art international artist of the year award.
So what keeps him going despite this grueling schedule? It is an persistent love for painting and a fighting spirit that took Scully from the streets to being twice nominated for the Turner Prize-an annual honor given to British visual artists under the age of 50.
"Painting is what (J. M. W.) Turner called a 'rum (hard)' business. One has to have unshakable belief. And I do," Scully tells China Daily.
"But the trick is not to have expectations, and be free," he adds.
Following a successful debut show last year in Shanghai and in Beijing, Scully has now returned to conquer the country with his signature colorful bars, stripes and checks.
The Nanjing show has 57 paintings that are being shown in China for the first time, and come from private collectors in the United States, Britain, Spain and Germany.
The works will also be shown in Guangdong (in September) and Hubei (in January, 2017) provinces.
If the last show gave the Chinese public an entry into Scully's art world, this time he invites the audiences to take further steps into his mind, understanding his resistance and persistence in life as the exhibition title suggests.
The title of the exhibition Resistance and Persistence comes from an essay of Italian painter Giorgio Morandi.
It also refers to the hardships that Scully underwent to pursue art.
Born in Dublin, he grew up in an "extremely poor" family in London.
His enthusiasm to be a painter was tempered with being turned down by numerous art schools in London. So when he enrolled with Croydon College of Art in 1965, he felt his life had been saved. And he worked with an intensity that "scared other students" and also himself.
The first painting at the Nanjing show is a large piece, titled Backcloth, which he made in 1970 while studying at Newcastle University.
Zheng Wen, one of the exhibition's curators, says the work feels so powerful that they had to put more light on another painting adjacent to it.
For decades, Scully has splashed colors on canvas with consistent force.
"One has to have resistance to be an artist," he says, "because one has got to resist all the insults one has to suffer as an artist."
"Now I'm famous, but before one is famous, one has to be infamous, and before one is accepted, one has be rejected. So one has to persist, in other words, have a little bit of hope," he adds.