Chile serving up more tastes of the sea in China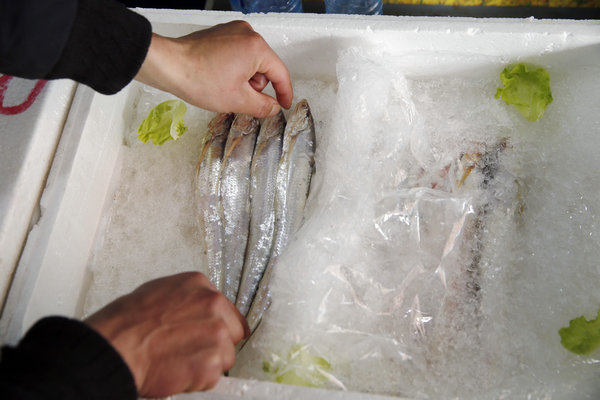 Fish. [Photo provided to China Daily]
The Atlantic salmon gleamed from the platter through a dry-ice fog. There was king crab. Snow crab. Black cod. Blue mussels.
In Beijing, where seafood fans often fret about the quality and safety of fish and shellfish, the loaded buffet at the Chilean embassy last week looked like heaven.
The goodies from the deep were on show as the embassy and Sunfka, a major importers of Chilean seafood in China, celebrated a milestone in the free-trade agreement between Chile and China that was inked in 2005.
Tariffs on many food products were reduced in increments over the past decade, and Chilean cherries, grapes and wines have become market favorites in China.
The country's seafood has been less established, but in 2015 the final stage of tariff reduction occurred for seafood, meaning the import tax was zero percent. Over the preceding five years, the value of Chile's seafood exports to China had soared from $1.4 billion to $8.7 billion, led by Atlantic salmon.
"Last year Chile was No. 8 in seafood exports to China," says Chile's ambassador, Jorge Heine. "We want to be in the top three by 2020."
In fact, more fish, shellfish and seaweed in Chinese markets and restaurants already comes from Chile than most people realize. Thanks to a 4,400-kilometer coastline and southern fisheries in clean, cold water, Chile has been able to develop a thriving seafood industry for export in the last 15 years, particularly its salmon industry. Today the country is the No. 2 exporter of salmon in the world, says Andreas Pierotic, Chile's minister counselor for economic and commercial affairs in China, and the No. 1 provider of frozen Atlantic salmon in China. With demand climbing, especially for fresh fish, importers are working with airlines to establish routine charter flights that will shorten delivery time from Chile to China to four days. That means fish would arrive in cold storage but not freezing, he says.
Besides ample production, Ambassador Heine notes, Chile boasts one of the strictest food-safety regimens in the world. Citing the recognized health benefits of salmon-noting that 80 grams of salmon fillet has an average of 2.9 g of omega-3 fatty acids, he boasts that "salmon is medicine" as well as delicious.
Other seafood items rode the wave stimulated by the tariff reduction: King crab exports to China were up 96 percent ($20.8 million) while mussels climbed nearly eightfold ($1.2 million). Chilean mussels are similar in shape to Chinese mussels, Pierotic says, "but much tastier" thanks to cold-water cultivation.
His country's increased attention toward China, he adds, is reflected in its presence at the Chinese Fisheries & Seafood Expo, held annually in the fall in Qingdao. "We had the biggest country pavilion in 2015, with 30 companies represented," Pierotic says.
"In 2010, there were only nine Chilean companies at the fair, which is the biggest in Asia."