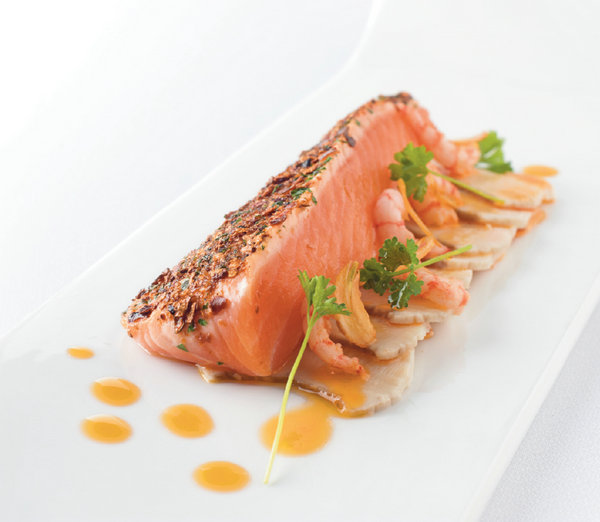 The Atlantic salmon is on show in Beijing to celebrate the free-trade agreement between Chile and China. [Photo provided to China Daily]  
Salmon seared with Pacific seaweed, pil pil of abalone and sea shrimps on smoked Chilean pepper
INGREDIENTS
(Serves 4)
4 salmon fillets, each weighing around 160 g
100 g olive oil
10 ml lemon juice
40 g mixed dried seaweed (cochayuyu and luche, if available)
2 cloves of garlic, very finely diced
¼ chili pepper (cacho de cabra, if available), cut into rings
180 g abalone, cooked and diced
180 g sea shrimps
40 cc abalone stock
50 g celery, cut into julienne strips
150 g hydroponic watercress
20 g lemon peel, cut into julienne strips
Diced spring onion and parsley Salt and pepper
METHOD
Season the salmon with salt, pepper and lemon juice. Spread one side with the seaweed mixture and sear this side until golden. Place the salmon in the oven to finish off and cook until medium.
To make the pil pil sauce, heat half of the olive oil and add the chopped cacho de cabra chili, the abalone, shrimps and garlic, soften with the abalone stock and add in the spring onion and parsley. Stir in the remaining olive oil.
Finally, sauté the celery for one minute, then add the watercress and lemon zest. To serve, place a salmon fillet in the center of the plate and cover with the abalone and shrimp pil pil. Finally, place the watercress-lemon-celery mixture on top of the salmon.