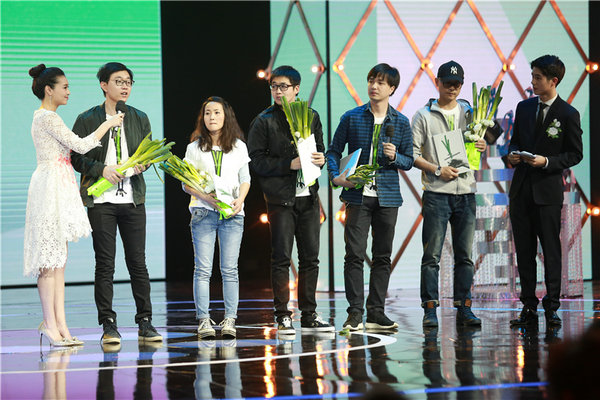 Winners of the CFDG Young Director Support Program hold scallions that imply freshness in Chinese culture. [Photo provided to China Daily] 
Chinese internet companies, which began to tap into the country's booming movie business several years ago, are now looking to attract aspiring directors.
The CFDG Young Director Support Program, backed by China's top movie regulator and run by the China Film Directors' Guild, released its list of five winners, selected from some 300 candidates after a two-month competition that ended on Sunday.
Unlike many similar projects sponsored by veteran filmmakers or leading studios, this project had two internet giants behind it.
Besides the program's chairman Feng Xiaogang, the heads of Tencent Pictures and Heyi Pictures, the film arms of Tencent and Youku Tudou, respectively, were present at Sunday's award ceremony.
Speaking about the contest, Feng, who says Chinese filmmakers have a tradition of passing on directing tips in a master-apprentice way, adds: "It is now time for our generation to take up the masters' responsibilities. We have to give newcomers more opportunities."
Feng also says filmmaking is a job with high entry barriers, so veterans need to help newbies.
His views seem to be supported by the current trend of veteran directors becoming producers.
One of the latest instances of this is the upcoming romance drama, New York New York, produced by Hong Kong veteran Stanely Kwan and directed by beginner Luo Dong.
Cheng Wu, the CEO of Tencent Pictures, says China's booming movie market, despite having many investors, is short of talent.
As a film's quality mainly depends on the screenwriter and the director, Tencent hopes to use its online platform and resources to find more creative people, he says.
"The winners and other aspirants who applied for the program are welcome to work with Tencent Pictures," he tells China Daily.
He says Tencent can either finance their scripts or hire them to direct the company's copyrighted programs, referring to popular works with an accumulated fan base.
Cheng says Tencent, which also has subsidiaries dealing with literature, gaming and animation, has a lot of popular content ready for cinematic adaptation.
China Reading Ltd, the literature arm of Tencent, has 10 million online novels and 4 million authors, says a report released in March.
Interestingly, popular online content, such as the animation series, The Fox Matchmaker and Zombie Brother, were used to test the finalists in the competition.
For the contest, the competitors were told to shoot a short film based on them, says Hou Xiaodong, chief of the CFDG program.
Hou says young directors can get immersed in the digital world quite quickly.
"Most of them are addicted to the internet, and they are more familiar with works on the web than many middle-aged or elderly directors," he says.
Actually, young directors are already showing reliance on the digital technology to not only present story ideas but also for money.
When actor Xu Zheng was preparing for his second feature film Lost in Hong Kong, he collected online data to learn about viewers' tastes.
Chen Yingjie, the producer of the animated franchise Roco Kingdom, earlier told China Daily that his crew recorded the audience's pulse rates and blood pressure readings to find out which scenes they found exciting during the test screenings.