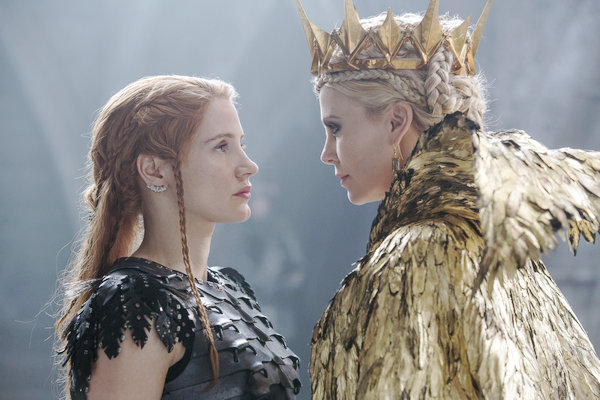 The Huntsman: Winter's War that stars Jessica Chastain (left) and Charlize Theron will premiere on April 22.  [Photo provided to China Daily]
Chris Hemsworth, an Australian actor, who is inevitably linked to his previous leading role in fantasy epic Thor, is not playing god this time.
And, Jessica Chastain, the American actress who has entertained moviegoers with a stream of serious films, is now off on a romantic adventure, reinterpreting a classic fairy tale.
But for hundreds of Chinese fans who waited by the red carpet for a rendezvous with the two stars last week, it did not matter-they just wanted a glimpse of the celebrities.
The actor and the actress were in Beijing to promote their upcoming film, The Huntsman: Winter's War.
"The most challenging thing (about making the film) was the cold," Chastain tells China Daily. "I was feeling very cold on the set."
Chastain, incidently, also had a seven-week physical conditioning course to prepare her for her debut as an action star.
The Huntsman: Winter's War, a film by Universal Studios, is to be simultaneously premiered in the United States and China on April 22.