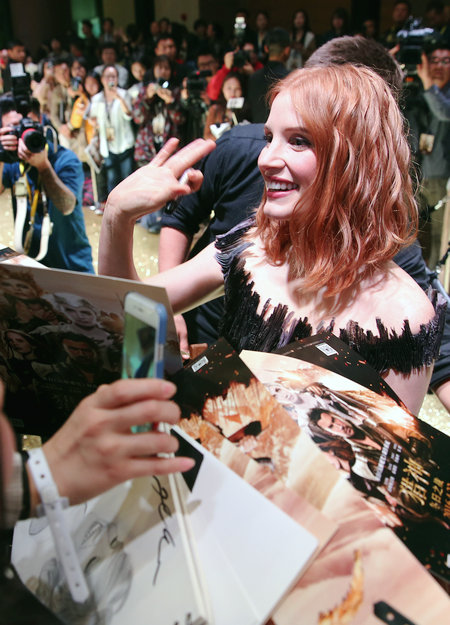 Chastain is in Beijing to promote the film. [Photo provided to China Daily]
Hemsworth worked with Chinese actress Tang Wei in the 2015 American thriller Blackhat.
Recounting that experience, he says: "She talked to me a lot about Chinese cinema and that was great. There is an abundance of talent and creativity here."
Though Hemsworth says he is looking for opportunities to film in China, unfortunately, he has not had the time to tour Beijing during this short visit.
"The country (China) is so exciting because there is so much color, sound and life on the streets."
Recalling her last visit to Shanghai, Chastain says: "I'd love to work in China. When I was doing The Martian with Matt Damon, he told me he was about to come to China to do a movie (Zhang Yimou's The Great Wall), and I was like ..." says Chastain, making a gesture to show how envious she was.
So, is Lady Model Worker making overtures to the Chinese film industry?
"I have never received an offer to do a movie in China, but anyone out there, I would love to."
Contact the writer at wangkaihao@chinadaily.com.cn