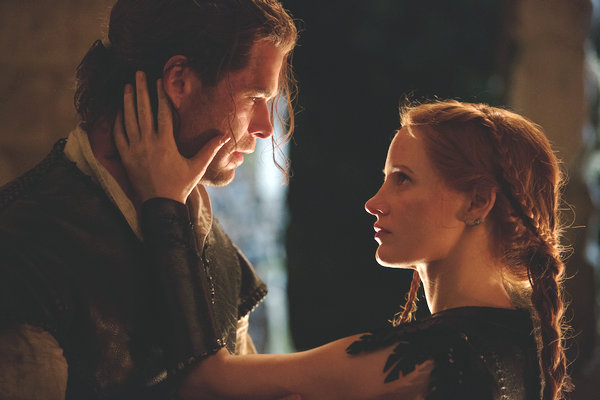 The Huntsman: Winter's War that stars Jessica Chastain (left) and Chris Hemsworth will premiere on April 22. [Photo provided to China Daily]
However, she says she just sees Sara as a normal woman.
"For me, every woman is a strong woman," says Chastain.
However, her statement at the promotion event is like a manifesto.
"They (women) don't have to be in a fairy tale and wait for a prince to rescue them."
Nevertheless, Chastain also says that she is looking for more diverse roles on the silver screen.
"What I would love to do are Western (films)," she says, adding that the US doesn't make too many such films now.
She also wants to do more comedies but is in no rush to take up a project.
"I've done a lot of sad films, and I'm really looking to having a laugh and doing something which is fun and light," she says.
"I work so much, and if I'm doing five movies a year and they are all heavy and dark, it is bad for me.
"It's easier for me to find great scripts about serious subjects, but for comedy, it has to be written well."
Perhaps, a potential comedy star is just around the corner.