Crustacean creativity on display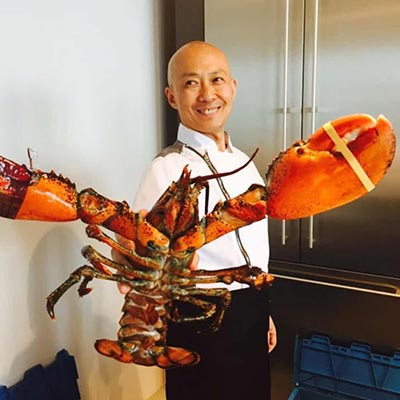 Luke Lu (aka "Lobster Luke") never stops coming up with new ways to prepare lobster, from a Vietnamese-style dish to the mixed seafood platter. [Photo provided to China Daily]
The lobster in front of me is big and virile. It looks a bit like Donald Trump: Orange. Cranky. Confident-and determined to have the last word.
That word will have to come quickly: The 1.5-kilo crustacean is about to be dinner.
I confess that in the past I've skipped past Lobster House, one of the eateries along Lucky Street's now slightly shabby facade that one passes on the way to the flossier restaurants of Beijing's Solana mall. But I saw a recent WeChat post about a wine dinner, which included a photo of a Chinese man brandishing an immense lobster with a gleeful smile.
"Where is THAT??" I quickly texted. In no time I was virtual friends with Luke Lu, also known as "Lobster Luke", and by the weekend I'd made a reservation and was seated with a plastic-gloved hand, ready to grapple with claws and shells and sauce.
Lu's nickname is well-earned. Besides his penchant for posing with the biggest lobsters Canada can muster-the Chengdu native imports them for other restaurants as well as his own-his kitchen produces 65 different dishes that include lobster.
Sixty-five.
There are fairly conventional options: a lobster salad with mixed vegetables and mayonnaise dressing, a salt-and-pepper lobster, a Boston-style steamed lobster with butter.
You can pick the size creature you want, and ask the kitchen to split it so you can enjoy two different preparations. Even then, it's hard to choose.
There is lobster cooked with basil in hotpot. Lobster on sizzling plate with lemon-grass flavor. Tricholoma mat-sutake mushroom with lobster. Mexican-style lobster salad. Lobster blood cooked with spicy chili sauce. Thai lobster. Vietnamese lobster. French-Chinese fusion lobster. The menu is a page-turner.
And he's not done.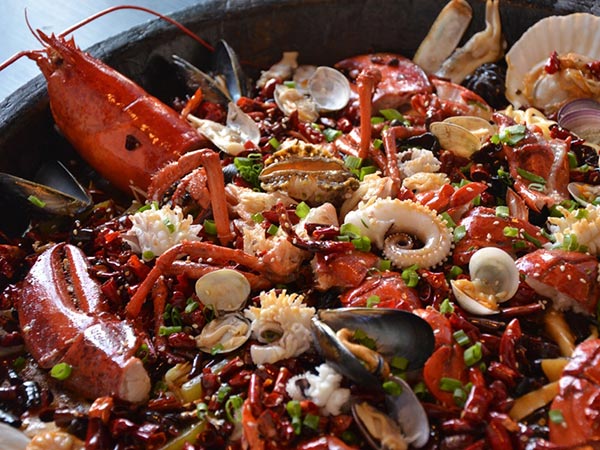 Luke Lu (aka "Lobster Luke") never stops coming up with new ways to prepare lobster, from a Vietnamese-style dish to the mixed seafood platter. [Photo provided to China Daily]
"I have other dishes that I prepare for catered events," says Lu, who is often inspired by his travels to add new lobster preparations to his menu. "I don't see an end to it."
Lu has been a chef and restaurateur for about 30 years. After studying in the US, where he was impressed by the success of the fast-food franchise Red Lobster, he came back to China and found no restaurants that focused on his favorite seafood.
So he's done so in a big way.
We did a crazy eyeroll when we saw "black pepper lobster", a breaded and fried lobster with a black pepper seasoning, served on a bed of french fries. When a server told us it was one of the restaurant's most popular dishes, however, we got curious. Frying that delicate meat seemed just wrong, but we had to try it.
And-wow. The breading was perfectly light, and the frying was clearly so quick that none of the lobster's succulence was lost. The black pepper made it sing. French fries-that fast-food starch-did not diminish it for a moment.
Breaded and fried lobster obviously has to be picked clean so there are no bits of shell lurking in the next bite. This user-friendly preparation carries over into almost every dish. Chunks of freshly prepared lobster keep their crustacean armor, but the shell pieces are cracked and easily handled with lobster forks and plastic-gloved hands. The usual shell-cracking fuss is reduced to a minimu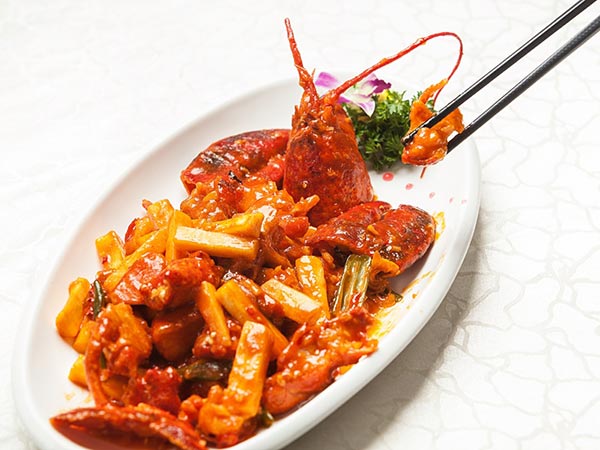 Luke Lu (aka "Lobster Luke") never stops coming up with new ways to prepare lobster, from a Vietnamese-style dish to the mixed seafood platter. [Photo provided to China Daily]
The lobster steamed and served with butter delivered the simple yumminess one would expect. The preparation with ginger and green onion got slightly mixed reviews: I loved the flavor but was wary of the rather gelatinous nature of the seafood, but my Chinese friend loved that, too. The dish, in fact, is very popular with Chinese diners, who famously embrace all sorts of textures on their plates-like the French and unlike fusspot Americans.
On a second visit, we enjoyed the Vietnamese-style spicy lobster, a not-so-incendiary dish sauteed with Chinese yam, lemon-grass, chili, ginger, garlic, shallots and okra.
Two side dishes came with our meals: a delicious rice congee infused with lobster shell, and a bowl of smooth, mild steamed egg topped with a bit of lobster brain.
Kungpao lobster, lobster with cumin and squid-ink paella with lobster are all temptations for next time, while "grilled lobster with Thousand Island sauce" seems like one lobster idea too many.
But since I was dead wrong about that black-pepper lobster, who knows?
If you go
‪Lobster House
No1-14 Chaoyang Gongyuan West Road (Lucky Street), Chaoyang district, Beijing. 010-5867-0299.
Related:
Contest lets Chinese chefs grab the pizza-making spotlight