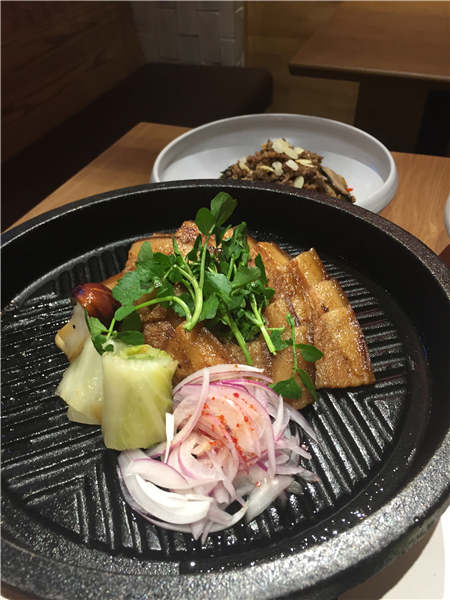 Grilled pork belly is one of Bibigo's specialties. Liu Zhihua / China Daily
Since entering the Chinese mainland in 2010, the global South Korean restaurant chain Bibigo has won many fans in the country, and the company has recently opened an eighth mainland branch, at Beijing's China Central Place.
As a unit of CJ Group, the largest food company in South Korea, Bibigo offers diners fresh and healthy Korean specialties.
The delicacies follow traditional recipes but also combine with modern tastes and local palates, according to Ye Xiaohui, a marketing executive with the company.
For example, fried rice cakes in South Korea usually are cooked with chili paste and kimchi, and are very spicy. In Beijing, however, the dish is less spicy to appeal to local tastes, she says.
The menu offers 25 dishes, which are all signature delicacies of South Korea, such as bibimbap, soybean-paste stew, kimchi tofu and fried rice cakes.
A must-have is Korean ginseng chicken soup, a national specialty of South Korea, which is made with jujube, Korean ginseng, chestnut and a whole young chicken filled with rice, garlic and other spices.
South Korean people believe that, in spring and summer, it is wise to have hot food instead of cold dishes, because cold food is likely to discomfort the digestive track and harm people's health.
Additionally, when the weather is hot, people sweat profusely, and thus need more energy from food. Ginseng, chicken and other nutritious ingredients in the soup are good choices to achieve that purpose.
The soup I tried had a pleasant, mouthwatering aroma from the ingredients that have been simmered for a long time, and tasted smooth and refreshingly savory. The young chicken was very meaty and tender, and gave the rice inside a chicken flavor.
Unlike the traditional version, the soup in Bibigo uses abalone to elevate its nutrition value.
I also liked the fried rice cake, which had a bite and was very delicious, having a sweet and spicy taste.
Another must-try is the japchae, a traditional Korean stir-fried dish of sweet potato noodles, bulgogi, pepper, mushroom, garlic, onion and burdock.
It's no wonder that when I got to the restaurant on a weekday evening, it was packed.
If you go
B118A, 77-81 Jianguolu, Chaoyang district, Beijing. 010-6530-5051.