Indian lamb stars at GreatWall 'carnivore' dinner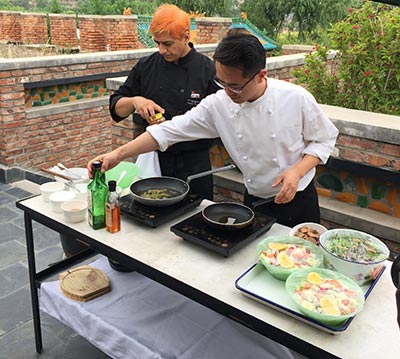 Chefs Randhir Singh and Steve Zhang prepare to saute apricots and lamb on the Brickyard open-air deck. [Photo provided to China Daily]
The apricots look suspiciously green to guests touring the orchard at the Brickyard Retreat, but to head chef Randhir Singh they look perfect.
Singh doesn't plan to eat the fruits fresh from the tree-he'll grill them with some spicy lamb, then toss both with the salad greens he's just taken us to pick from the organic garden outside the restaurant kitchen. He'll serve it family-style with a number of raita (yogurt dip) for the lamb-themed dinner he's co-hosting at the Mutian-yu-area restaurant for the Carnivore's Club, with chef Steve Zhang from Feast at East Hotel Beijing.
"Having been a chef for almost 30 years and having worked in big five star hotels as well as small boutique restaurants, what I've always enjoyed the most is my mother's food that comes straight from the heart," says Singh, who's been combing his mother's home-cooking recipes for the one-night-only dinner on July 2.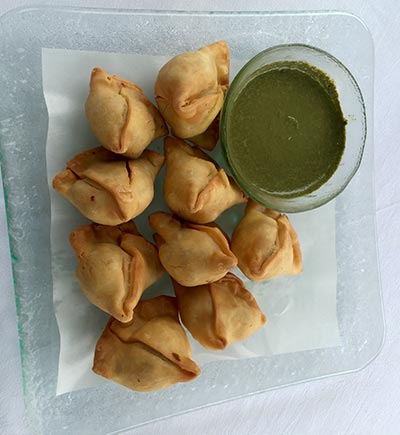 Goan-style lamb shank and vegetarian samosas are part of the Carnivore's Clubmenu. [Photo provided to China Daily]
Using lamb from nearby farms and his own fresh-picked fruits and vegetables is key to the process: "Everything is made with local homegrown ingredients and love."
Singh is equally keen about his kitchen and his personal garden. "You can feel it, the change in taste in spinach, pumpkin or watercress is amazing," he says. "It just leaps out and says, 'Look, I am here!'"
The Carnivore's Club series of occasional dinners was created by Feast head chef Rob Cunningham, who has teamed with several Beijing chefs to increase awareness of secondary cuts and offals with menus that use an animal "nose-to-tail". Cunningham is leaving Beijing this month for a job in Indonesia, and his longtime kitchen colleague Zhang will take over the "Carnivore's toque" at the Brickyard dinner with Singh.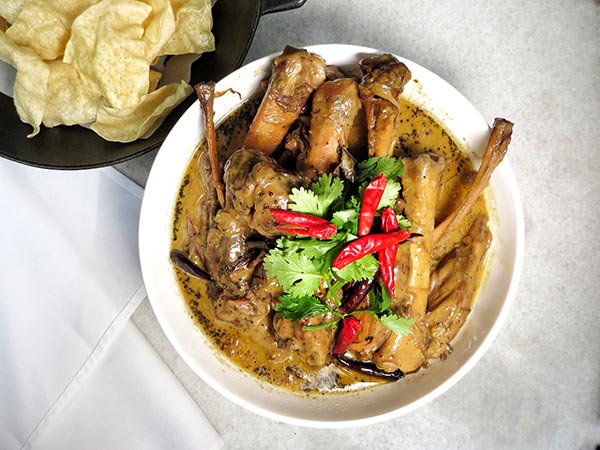 Goan-style lamb shank and vegetarian samosas are part of the Carnivore's Clubmenu. [Photo provided to China Daily]
The dinner menu the two chefs are serving up for a media preview starts with a selection of Indian canapes, including vegetarian samosa, pakoras (vegetarian fritters) and cumin flavored tomato and spinach tarts-served on the Brickyard's open air yoga platform-followed by the garden salad with grilled apricots and spicy lamb. For the main course is a selection of Indian-spiced grilled vegetables, rogan josh style plumped lamb shoulder and Goan-style lamb shank, served with papadum, wild green peach chutney, and mint chutney. For dessert there is traditional mango lassi pudding, green cardamom kulfi, and a sweet-savory carrot halwa served with sweet tea and the resort's homemade liquors.
Because many guests will be coming to the July 2 event from Beijing, The Schoolhouse at Mutianyu and the Brickyard Retreat will offer the family-style dinner as part of a "staycation" package for 1,588 yuan per couple, including the Carnivore's Club dinner for two and a night in a queen room with a view of the Great Wall, breakfast for two at the lodge, outdoor Jacuzzi and health center access and a relaxing late checkout (subject to availability). It does not include transportation to Mutianyu.
For more information and bookings, contact reservations@brickyardatmutianyu.com.
Related:
Mouthwatering 'football stadium' built from sandwiches