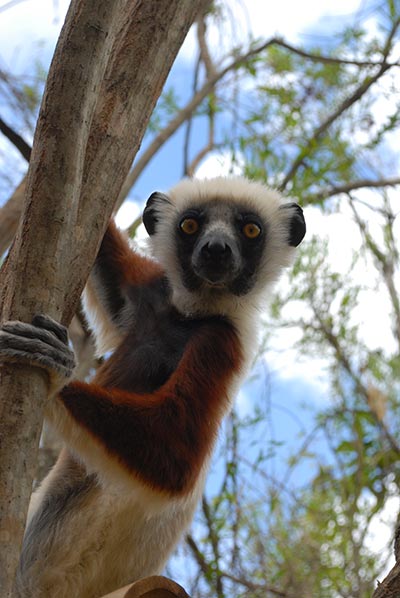 The Coquerel's sifaka is one of the exotic animal species that are native to Madagascar. [Photo provided to China Daily]
The reality show
The Law of Us
, showcasing the adventures of seven Chinese celebrities in the jungles of Madagascar and Ecuador, recently premiered on Anhui Satellite TV. Participants include actor-turned-entrepreneur Li Yapeng, actor Nicholas Wu and comedian Xiaoshenyang.
The current episodes showcase Madagascar's picturesque scenery and biodiversity, which are appealing to Chinese tourists. They can get a visa on arrival in the country.
In 2015 more than 8,000 Chinese traveled to Madagascar, according to the country's Ministry of Tourism, Transports and Meteorology.
Victor Sikonina, Madagascar's ambassador in China, said city-dwellers will especially enjoy the beauty of jungles. The country have more than 40 national parks, to better preserve the biodiversity and develop ecotourism.
He said tourism is the best way to strengthen ties between people of the two countries and quoted an old Chinese saying, "It is better to travel ten thousand miles than to read ten thousand books".
"Our friendship can date back to the early 20th century, when Chinese settled on the island," he said.
Related:
Drama focuses on what emperors ate