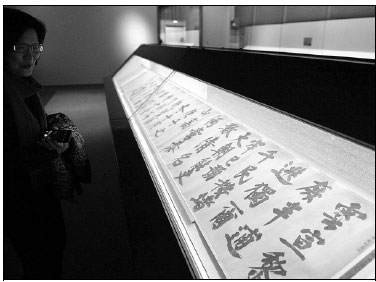 The show Masterpieces of Chinese Painting is running at New York's Metropolitan Museum of Art until October next year. Xinhua
"Most Americans can't really understand the Chinese characters and calligraphy, but they are attracted by their beauty and magic," Joseph Scheier-Dolberg, assistant curator in the department of Asian art in New York's Metropolitan Museum of Art, said on Friday.
Celebrating its 100th anniversary this year, his department on Saturday opened a special exhibition, titled Masterpieces of Chinese Painting, which presents the historical evolution of the brush arts of China from the Tang Dynasty (AD 618-907) to the present. The show continues through Oct 11, 2016.
"By highlighting the collection's most notable work of art, the exhibition will provide visitors with a rare opportunity to learn about the history of Chinese painting and calligraphy through some of the best examples available from each era," Scheier-Dolberg says.
The exhibition begins with early works from the Tang and Song (960-1279) dynasties including the oldest and most storied piece in the museum's collection of Chinese art - Han Gan's Night Shining White, an eighth-century painting of the favorite horse of Emperor Xuanzong.
The painting bears seals and inscriptions dating to the eighth century. Alongside it is one of the few surviving Chinese paintings from the 10th century - the imposing Palace Banquet, which depicts a lavish courtly scene in the women's quarters of the palace.
"Most Westerners have different levels of knowledge about Chinese culture, but they are learning to study and appreciate the Chinese art and culture little by little through these kinds of exhibitions," Scheier-Dolberg says.
He says art of the Yuan Dynasty (1271-1368) is a highlight of the Met's collection.
Works of art on show from this period include Zhao Mengfu's well-known Horse and Groom, Zhang Yucai's dragon painting Beneficent Rain, and masterpieces by two heroes of the literati painting movement, Ni Zan and Wu Zhen.
The literati painting is an East Asian type of brush painting that uses black ink, the same as that used in East Asian calligraphy in various concentrations.
East Asian ink-and-wash painting does not simply reproduce the appearance of the subject, but captures its spirit. It is thus regarded as a form of expressionistic art that captures the unseen, and has long inspired modern artists in the West.
"Featuring a total of 110 works, the exhibition will be presented in two rotations," says Scheier-Dolberg. "When you come to see the exhibits, you can see their details and feel the personalities of those big figures in the Chinese art history."
"You can say we've been working for 100 years to prepare for this exhibition," he says.