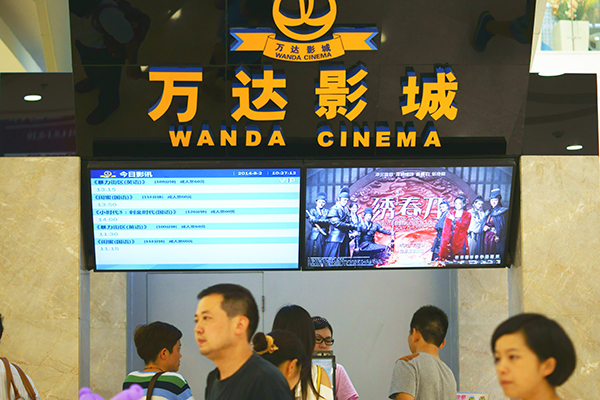 A Wanda cinema in Yichang, Hubei province. [Photo by Zhou Jianping/China Daily]
Dalian Wanda Group Co Ltd, the privately owned Chinese property conglomerate, plans to list its film production and distribution business within a year, Wang Jianlin, its chairman has told Caixin magazine.
"The two parts will be listed individually or as a package, we haven't decided yet," China's richest man said.
"Once they go public, it will prompt even higher growth and position us at the top of all parts of the business chain."
Wanda's cinema unit is already China's largest cinema chain with nearly 2,000 screens, while the film production and distribution operation has also been taking increased market share, despite being relatively new.
Liu Cuiping, research director at EntGroup, said the potential listings are further evidence Wanda is looking to become a major player in the entertainment industry "comparable to those in Hollywood".
"The company already has a mature business in every part of the industry chain, and going public will provide it with more capital.
"But Wanda also has a lot of big competitors in China, such as China Film Group Corp," said Liu.
Wanda's film production and distributing operations grew faster this year than its cinema business, which became the first of its kind in China to list when it went public on the Shenzhen Stock Exchange in January.
The giant property developer has also been diversifying its portfolio into sport.
Earlier this month it completed a $650 million merger with World Triathlon Corp, creating the world's largest sports company.
It bought Swiss sports marketing group Infront Sports & Media for 1.05 billion euros ($1.2 billion), and took a 20 percent stake in Spanish soccer team Atletico Madrid.
In 2012, Wanda completed the high-profile acquisition of Los Angeles-based AMC Entertainment Holdings Inc for around $2.6 billion, which helped pave the way for further inroads into the international film industry.
"Back then, we were nervous about acquiring AMC since it was our first overseas investment. But the price was really good. It doesn't matter that it has suffered losses, we can turn it around," Wang said.
Related:
Producer on 'The Martian', 'X-Men' and role of China