Watch designed by 'piano prince' Lang Lang expects to come out next March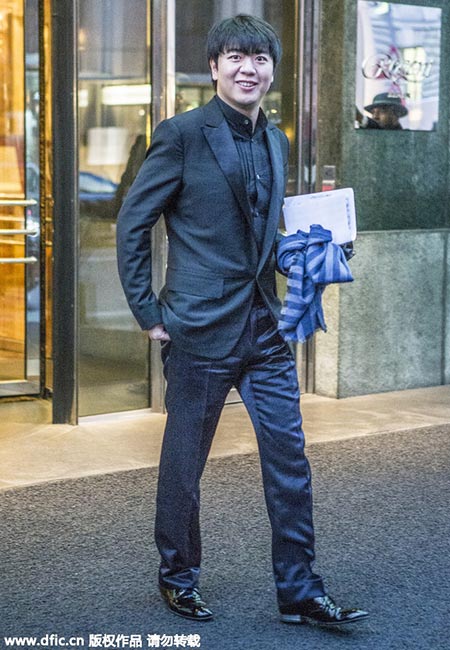 Lang Lang in front of Regent Hotel Berlin, Nov 6, 2015. [Photo/IC]
Combining classical music with the luxury timepiece, the renowned Chinese pianist Lang Lang has offered his talent to a Swiss watch maker.
Prior to delivering his solo concert to audiences here last Friday night, Lang first impressed Swiss watch experts with his ideas and innovation in watch design.
After intense discussions and an exchange of ideas, the young pianist and watch experts worked out the plans for two new watches, which highlight the musician's signature and musical notes.
Asked about his design philosophy, the 33-year-old pianist said he hoped the watches would be distinguished by their musical elements, as well as be modern, fashionable and high-quality.
The special watches will be manufactured by Hublot, a Swiss luxury watchmaker founded in 1980. Hublot expects the "Lang Lang watch" will hit the market in March 2016 after an unveiling at the annual Basel World Watch Exhibition.
With the rapid growth of the Chinese economy and the expanding middle class there, the Swiss luxury timepieces, a symbol of the upper-middle class, is gaining popularity in China.
Currently, China is the third-largest market for the Swiss watch industry.
According to statistics from the Federation of the Swiss Watch Industry, the value of Swiss watch exports to China jumped from $50 million in 2000 to $1.41 billion last year.
Related:
Lang Lang holds sharing session of new album in Beijing
Pianist Lang Lang's Palace of Versailles dream comes true