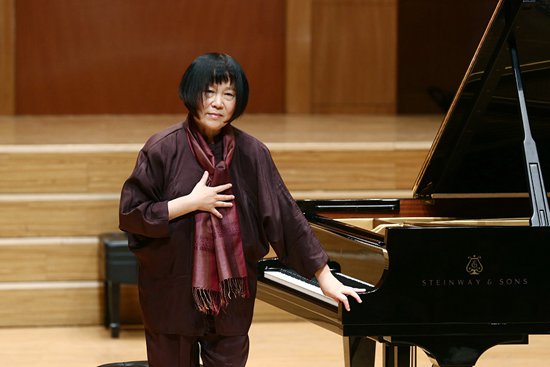 Zhu Xiaomei always wear the same clothes while she performs in the past thirty years, and she would bow to the audience everytime after the show. [Photo/Agencies]
"I was told to be prepared for the audience to leave, but no one left - no one ever made a sound."
Zhu Xiaomei, the pianist who left China in disappointment more than 30 years ago, said she gained a lot of confidence in the country after the show held in Xi'an last Sunday.
"Four hundred CDs were sold out that night, and three suburban-looking girls came to me after the concert, saying they came all the way from Baotou in Inner Mongolia to Xi'an just for the show. I was touched beyond words," she recalled.
Zhu, now in her 60s, fled China for the US in the 1970s, a time when the only book she could find to read was Quotations of Chairman Mao. Later, in 1985, she moved to Paris, a dream since she was a teen.
Zhu said Paris not only refined her feelings and emotions and nurtured her character, but also influenced her to pursue art as no one was watching. It also led her to always probe deeper into the music to feel its soul.
Guided by this spirit, Zhu has consistently played Bach for more than 25 years. Eventually, Bach's Goldberg Variations just flowed out of her so naturally and earnestly as if it were a part of her, and she soon became a favorite among Bach fans in Europe after her first CD came out in 2000.
But to the surprise of many, Zhu, who have lived in Europe for half of her life, said the people who understand Bach best are not Westerners, but the Chinese, even though they began listening to him relatively late and weren't aware of her until recent years. "We share the same sentiments, the virtue of modesty. We can understand such feelings as they are also bound in Bach," Zhu said.
Encouraged and invited by some Chinese music critics, Zhu was persuaded to give several concerts in China in 2014. This year, she also toured several cities in West China to "make Bach heard". On Tuesday, Zhu gave a concert at St Joseph's Church in Beijing, saying it might be the last concert in China given her age.