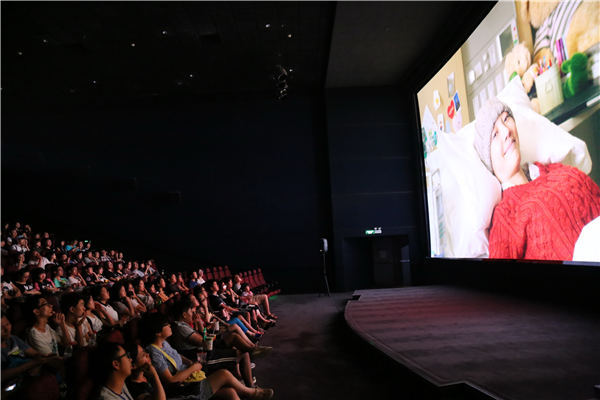 Audiences watch a screening of Go Away Mr Tumor in a theater in Jinan, Shandong province. The romantic comedy is China's official submission for the Oscars instead of Wolf Totem, thought to be in the reckoning for long. Photos provided to China Daily
The surprise choice of Go Away Mr Tumor instead of Wolf Totem as China's official entry for this year's Oscars has shocked local filmmakers, who say the Academy's rules 'aren't clear.' Xu Fan reports.
Young Chinese director Han Yan was stunned to learn that his romantic comedy Go Away Mr Tumor is China's official submission for the Oscars.
The list of 81 movies, which are accepted for this year's best foreign language film, was announced by the Academy of Motion Picture Arts and Sciences on Oct 8.
It was also a surprise for industry observers that China's longtime favorite, Wolf Totem, was not chosen, as its core creative team had too many non-Chinese members.
Go Away Mr Tumor, adapted from the biography of the late cartoonist, Xiong Dun, has been chosen instead of the Sino-French coproduction Wolf Totem.
The comedy Tumor, however, is widely regarded as a lightweight effort lacking the gravity to be in contention for one of the world's highest honors in the movie business.
"I never expected my works to be connected to the Oscars ... I was pretty shocked, not exactly excited or delighted the moment I heard the news," says Han, 32, during a telephone interview with China Daily.
The director says he didn't realize that when the film's producer Wanda Pictures asked him to hand in his resume and profile photos they were for the Oscars' application.
"No one told me ... until I received the media calls. To be honest, I knew very little about the selection process and judging standards for the Oscars foreign language race ... I've recently increased my knowledge about it thanks to numerous interviews," he says.
Han says he is not affected by any controversy over its nomination and will continue to focus on the commercial genre. He says he will not focus on such speculations.