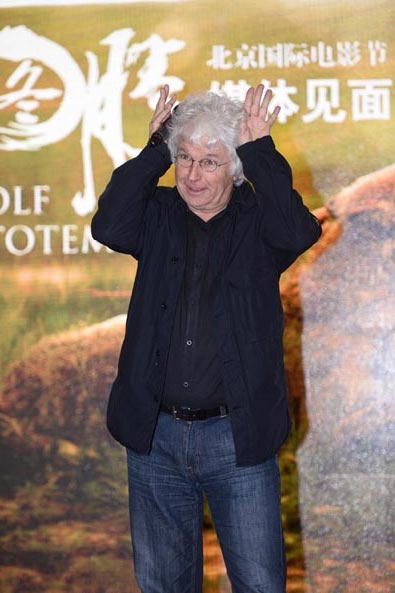 French director Jean-Jacques Annaud attends a press conference to promote his new movie Wolf Totem in Beijing. Photo provided to China Daily
Oscar-winning French director Jean-Jacques Annaud denounced Academy Award organizers yesterday after his Sino-French co-production, Wolf Totem, was dropped from the Oscar race for being insufficiently Chinese.
Annaud said he was "stupefied" by the Academy's last-minute move and called the Academy of Motion Picture Arts and Sciences a "banana republic level of arbitrariness".
Wolf Totem, the story of a young man's triumph over wolves in the grasslands of Inner Mongolia, was shot in both Mandarin and Mongolian in China with Chinese actors. Earlier this month, Chinese media reported widely that the film could be China's entry for Best Foreign Language Film at the 2016 Oscars.
"When we looked at the creative make-up of Wolf Totem and realized that the director, two of the three writers, one of the producers, the DOP (director of photography), the editor and the composer were not Chinese, we determined that the film could not qualify as a Chinese entry," Annaud said, citing a letter from the Academy during an interview with AFP.
"I believe that the selection committee completely forgot the importance of actors in a film. It's the same as ignoring the content of the film," Annaud added.
"I am stupefied," he said. "Suddenly, the rules changed. It was almost a banana republic-level of arbitrariness."