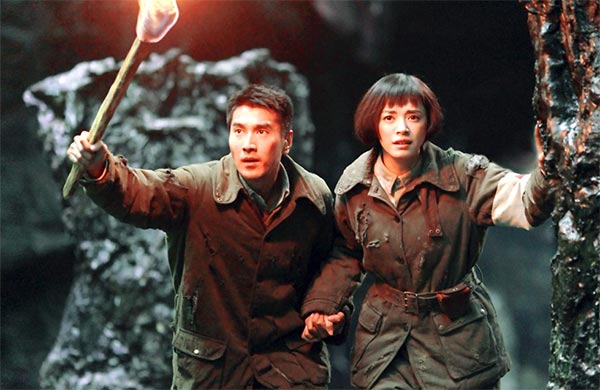 A stil shot from "Chronicles of the Ghostly Tribe". [Photo/Mtime]
The gap between domestic blockbusters and their Hollywood counterparts is closing, especially in visual effects.
In recent years, inspired by high-grossing Hollywood pictures, domestic filmmakers have attempted to cash in on films driven by special effects.
Although many works in the early stages failed to meet the audience expectations, effects have gradually improved.
Ticket sales of "Chronicles of the Ghostly Tribe", a 3D action-thriller, exceeded 500 million yuan ($78.8 million) during the seven-day National Day holiday after opening on Sept 30.
The success of the film by Lu Chuan, whose previous work includes "City of Life and Death", trailed behind upbeat box office sales of two other films that rely heavily on visual effects.
"Monkey King: Hero is Back", a 3D animated feature, raked in about 900 million yuan, setting a box office record for domestic animation.
With sales exceeding 2.429 billion yuan, homegrown live-action animation "Monster Hunt" took this year's top spot from Hollywood smash "Furious 7" with 2.427 billion yuan in mid-September, becoming the highest-grossing film in China's movie history.
The three, which have won applause for delicate visual effects in addition to great story-telling, have outperformed Hollywood blockbusters in the Chinese market.
In 2014, "Godzilla" and "Interstellar" only reaped 486 million and 751 million yuan respectively in China, according to statistics from the State Administration of Press, Publication, Radio, Film and Television (SARFT).
"Chronicles of the Ghostly Tribe" beat "Minions" and "Mission: Impossible -- Rogue Nation" in ticket sales during the National holiday.