Faye Wong's daughter banned from teaching makeup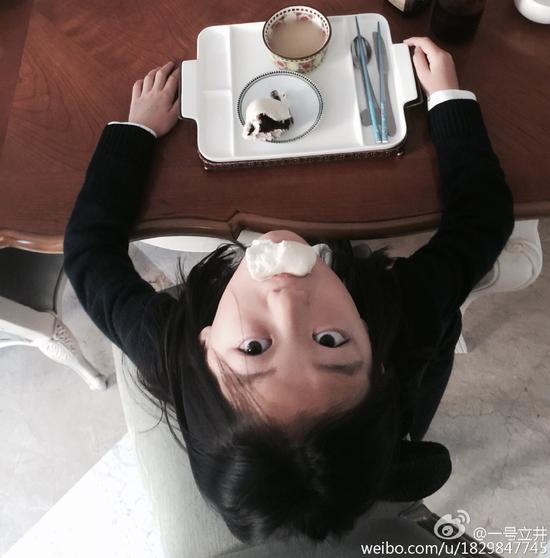 Li Yapeng posted a photo of his daughter and a statement on Tuesday morning on his micro-blog. [Photo/Weibo]
Pop diva Faye Wong's 9-year-old daughter created a cyber-frenzy by posting videos of herself teaching makeup and style online before she was cut off by her father from social networks on Tuesday.
Li Yan, the daughter of divorced parents Wong and Li Yapeng, has recently made several video clips on a Chinese social network platform while she was home alone. Her mother's wild cosmetic collection has given the little girl an unlimited imagination.
Li shocked Internet users by showing them how to do makeup and showing off her mother's makeup room. She also addressed herself as "Teacher Li," and interacted with users and mimicked several big name actresses such as Angelababy, Fan Bingbing and Li Xiaolu in the videos. Many lavished their praises on her smartness and cuteness and sighed a relief when they realized the girl is self-confident despite being born with a cleft lip.
However, her father jumped in to stop the show. Li Yapeng, actor-turned-enterpreneur, released a statement on Tuesday morning on his Weibo account that he felt very happy seeing his daughter's smile on the Internet but blamed himself for not supervising her enough.
"At her young age, she is not ready to face the public and she has a long way to go," the father wrote, "After discussing things with her, I have closed down her public account."
The actor also thanked the Internet users for caring and "liking" her videos, saying, "Daddy actually saw those videos several times." But he deleted his daughter's original video clips.
Li Yapeng and Faye Wong are very protective parents. They married in 2005 and had their daughter in May of 2006. Li Yan was born with a cleft lip, and the two have been trying their best to cure her. In November 2006, the couple established a charity, the Smile Angel Foundation, to give assistance to other children with the condition.
Li and Wong divorced on Sept 13, 2013.
Related:
Cumberbatch's refugee appeal: We must do more