Supermodel falls at New York Fashion Week show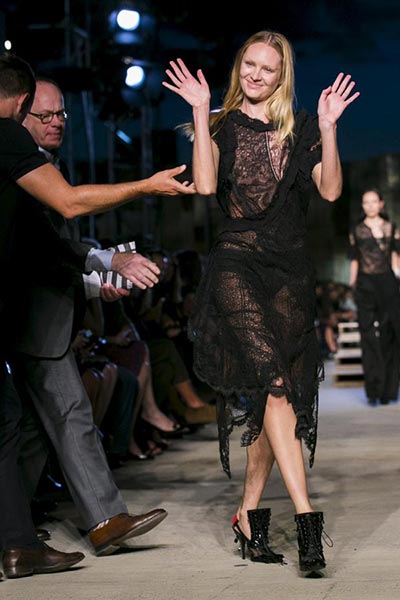 A model is helped up after falling while presenting a creation from the Givenchy Spring/Summer 2016 collection during New York Fashion Week in New York September 11, 2015. [Photo/Agencies]
Victoria's Secret model Swanepoel slipped and fell down on the runway at the Givenchy show at New York Fashion Week, according to media reports on Tuesday.
It turned out that the model's pointed high heels were the reason why she lost her footing. The viewers were quick to help the model get back on her feet.
The 26-year-old supermodel stood up and just smiled as if nothing happened. It seems that she didn't mind the embarrassing accident and managed to walk away with composure.
Her graceful exit earned her praises. Social media users praised her with good words they are able to relate to her, saying that she was a perfect example of how professional models handle awkward situations, and that Candice Swanepoel had the right idea: If you fall, dust yourself off and get right back up.
Swanepoel is one of the top-earning models in the world. She ranked No.9 on Forbes magazine's 2013 list, with $3.3 million. She also topped Maxim's Hot 100 list of beautiful women in 2014.
Related: