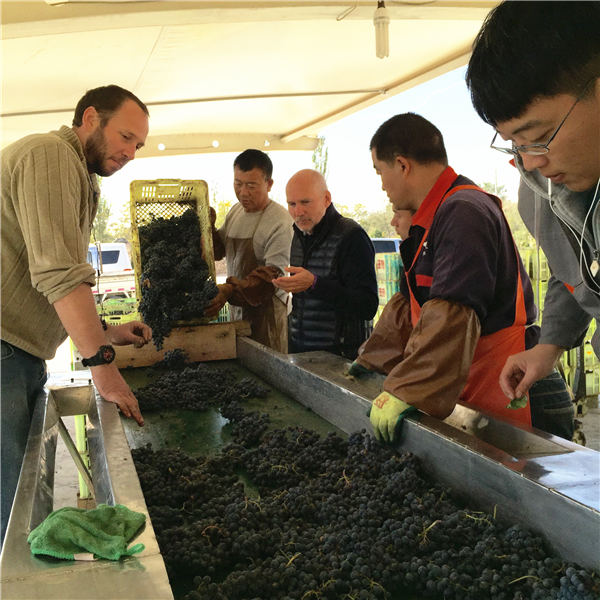 Viticulturists and winemakers harvest grapes on the eastern slope of Helan Mountain in the Ningxia Hui autonomous region. Boutique wineries here win international prizes and attract partnerships with brands like Pernod Ricard and Chandon. Photos by Mike Peters/China Daily
As Ningxia's best wines celebrate a decade of attention-getting quality this year, Mike Peters stops in for the year's last pickings.
The grapes that Mike Insley is plucking are not the fat table grapes that were favored in Ningxia just a generation ago. They are smallish, the size of blueberries, and their flesh is sweet as your grandma's pie.
Insley is delighted. "These are 24 to 25 brix," he says, referring to the percentage of sugar reached last weekend, the final days of the harvest for most wineries around Yinchuan, capital of the Ningxia Hui autonomous region.
But as I greedily pick another sugar bomb to taste, Insley's interest moves deeper. Spitting out the sweet pulp, he's now chomping down on the seeds with epicurean gusto.
"Nice, hard brown seeds," beams the viticulturist at Pernod Ricaud Helan Mountain, my first stop on a whirlwind tour of a few of the local vineyards. He squeezes the pips from another grape to show me. "Good crunch, too. You don't want to be extracting tannins from green seeds during fermentation."
The sun is shining, the sky is a brilliant blue, and all's right with the world of winemaking in Ningxia. Largely agricultural and Muslim dominated, this may be the world's hotspot for winemaking - and that's not just a local assessment.
"Ningxia's raw material is impressively consistent," writes Jancis Robinson, the author and Master of Wine whose recent visits are enshrined in her black Magic Marker signatures on French oak barrels in several cellars here. "The wines have an attractive frankness of fruit, rarely more than 13 percent alcohol nicely balanced by natural acidity."
China's winemakers have a reputation for being out for the quick buck: Make it fast and cheap, slap on a label with a pretty chateau and get the stuff in and out of the barrel ASAP. But for vineyards here, carved out of the sediments of the Yellow River on the eastern slope of Helan Mountain, that's old thinking. Boutique wineries have bubbled up all over this valley, winning international prizes and attracting partnerships with brands like Pernod Ricard and Chandon.
"Taste and seed maturity are both critical, especially for cabernet sauvignon," says Insley, bringing me back to the moment. "The skins are soft but chewy, so they will hold up in the fermentation tanks. There is enough sugar to yield wines that are 14.5 percent alcohol.