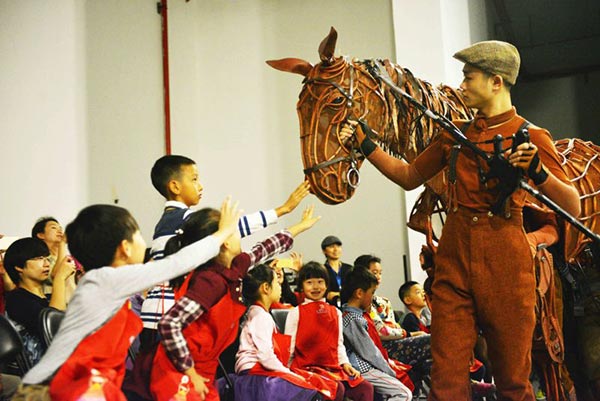 Children interact with Joey the horse. [Photo provided to China Daily]
Since its premiere at the National Theatre of China on Sep 4, the play War Horse has enjoyed popularity among local theatergoers. Many fans want to see Joey, "the horse", after watching the show, so the National Theater of China opens its backstage on weekends to hold some interactive events with ticket-holders.
On Sunday, they received a group of children who are learning to paint. The horse-puppet director Liu Xiaoye took the children backstage to touch the puppet, told them how to manipulate the horse, making it walk, run and jump. Then the children tried to manipulate small-sized puppets and paint them.
"In countries with rich theater tradition, it's common to run interactive events for the audience when a play is running. We started to do it with War Horse," says producer Li Dong.
He says the crew has arranged a dozen events for audiences of different ages and backgrounds. Some just come to see and touch the puppets, some tried to manipulate them and some visited backstage to see how a show runs.
"We try to attract more people to the theater. War Horse is a good play getting attention through people's word of mouth," he says.
War Horse will run in Beijing until Oct 31. It will tour Shanghai from Nov 15 to Jan 17 and Guangzhou from March 8 to May 3.