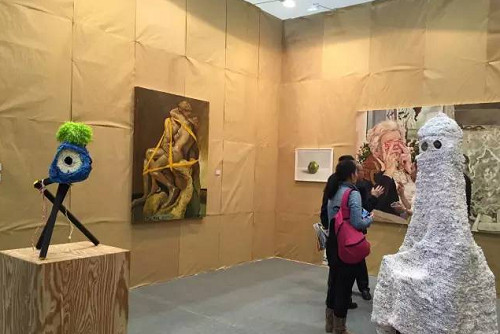 The 11th China International Gallery Exposition opens in Beijing. [Photo/CCTV.com]
With its allocation of free exhibition space to select galleries, the 11th China International Gallery Exposition in Beijing is championing contemporary art in general, and Chinese art in particular. With China being the second-largest art market in the world, this makes for an event of global impact.
Initiated in 2004, the China International Gallery Exposition is one of the most influential art fairs in Asia. Its sheer scale, occupying the largest conference center in Asia, is in itself remarkable.
The exposition area has been divided into two parts. In area A, there are 50 outstanding galleries from all over the world, while in area B, there are more than 50 exceptional artists presenting solo exhibitions. It's truly a visual feast.
Paintings, mixed-media works, sculptures, installations, and more it's bursting at the seams with creativity.
Among the exhibitors is the Beijing, based Hive Centre for Contemporary Art, dedicated to Chinese abstract art, which is enjoying increasing global recognition.
"The art form has its origins in literati ink-painting and calligraphy, and it's rooted in traditional Chinese philosophies which stress the importance of mankind's harmonic relationship with Nature and cultivation of the inner self through meditation. Several of these artists have at one point or another lived abroad in the West, so their works contain both Chinese and Western influences. But Art transcends cultural expectations," said the director of Hive Centre for Contemporary Art, Xia Jifeng.
In its bid to stimulate international dialogue on Chinese and Asian contemporary art, the exposition is championing outstanding artists and galleries.
One important policy this year was to give free exhibition space to invited galleries.
The exhibition also includes displays unfolding the creative process of contemporary masters, such as Zhang Xiaogang, Fang Lijun, and Yue Minjun.
Other events include salons, workshops, and seminars in which famed art collectors, curators, art agents, as well as artists themselves, share their professional perspectives.