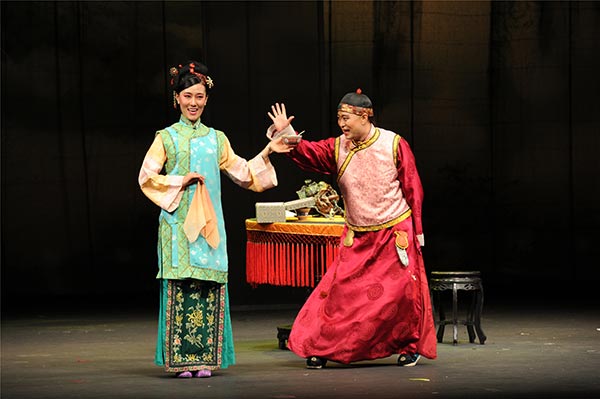 A scene from Snuff Bottles. [Photo provided to chinadaily.com.cn]
Twenty years ago, when composer Dai Yisheng, along with scriptwriter Zhang Yonghe and director Gu Wei, created Snuff Bottles, a Quju Opera work produced by Beijing Quju Opera Troupe, she didn't expect that the show would save Quju Opera, a local operatic form developed in the 1950s in Beijing, from extinction.
The show also saved the troupe, which was on the verge of being disbanded.
Recently, the show has celebrated its 20th anniversary and a new round of performances was staged in Beijing.
"Before Snuff Bottles was born, we hadn't done new shows for five years. All my colleagues were worried about the future of our troupe," recalls Dai, 73.
"We were so devoted to Quju Opera and we didn't want it to die," says the veteran composer, who had been with Beijing Quju Opera Troupe since 1972 and is now retired.
To Dai's surprise, the show, Snuff Bottles, which was performed in the Beijing dialect to the accompaniment of sanxian, a three-stringed plucked musical instrument, and rhythmic drumbeats, enabled Quju Opera and the troupe to make a comeback to the theaters in Beijing.
Based on a novel of the same title by Deng Yongmei, the show tells of the miserable life of a skilled craftsman, who would rather cut off one of his arms than make a snuff bottle bearing the image of a foreign invader for a traitor of the Qing imperial lineage.