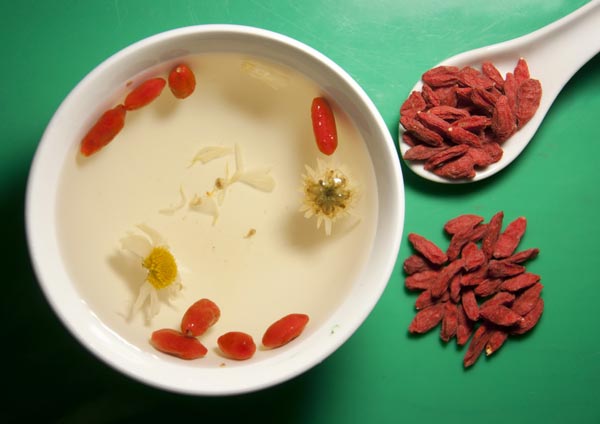 A drink with Hanghzou white chrysanthemum and wolfberry is believed to be good for health in the autumn. Provided To China Daily
Dry air that sets in throughout most of the country during autumn can cause health problems - but there are traditional treatments to help.
Chinese have since ancient times used several practices to maintain health during this time.
"The most common issue is qiu zao (literally, autumn dryness) - a lack of water in the environment and body," says Wang Jie, president of Guang'anmen Hospital of the China Academy of Chinese Medical Sciences.
"Qiu zao can cause discomfort in the organs, eyes and skin. Symptoms include a dry, swollen or sore throat, a dry cough, itchy skin and fatigue."
Wang has practiced traditional Chinese medicine for more than two decades and is recognized among its foremost practitioners and researchers. He spoke to China Daily on the sidelines of a conference of hospital presidents in Beijing, celebrating the establishment of a TCM-hospital branch association under the national nonprofit Chinese Hospital Association.
TCM contends autumn's dryness is detrimental to yin, which should be balanced with yang in the body, and lung function.
Thus, staying healthy is a matter of nourishing yin and protecting the lungs, Wang says.
Rule No 1: Drink water.
But there's more you can do.
Chinese have long used herbs in drinks and soups. The easiest to get are maidong (dwarf lilyturf), mulberry leaves and lily seeds, Wang says.
He strongly recommends a TCM concoction called qingzao jiufei tang, which literally translates as "soup that counters dryness and moistens the lungs". It's made from white mulberry leaves, gypsum, donkey-hide gelatin, black sesame seeds, apricots and other TCM herbs, and typically imbibed daily.
While the soup suits most people, it's important to note every individual's constitution is different, so it's best to seek the advice of a TCM practitioner.
Jiangsu Hospital of Traditional Chinese Medicine president Fang Zhuyuan suggests people consume drinks made with pangdahai (boat-fruited stercrlia seeds), honeysuckle or nan shashen (Radix adenophorae) if they suffer from a mild dry cough and swollen throat.
If symptoms are severe, he suggests pears steamed with chuanbei (fritillaria bulbs).
Concoctions with Hanghzou white chrysanthemum and wolfberry can help prevent symptoms in the first place, he says.
Fang advises against spending much time staring at electronic screens or taking frequent showers, as these can more easily dry the eyes and skin during this season.
liuzhihua@chinadaily.com.cn