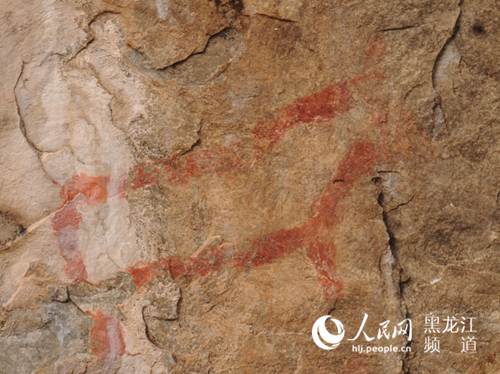 More than 1,800 ancient cliff paintings are found in Heilongjiang province. [Photo/people.cn]
Chinese archeologists have found more than 1,800 ancient cliff paintings in northeast China's Heilongjiang province.
The works, the first of which was discovered in 2012, were painted by primitive hunters who inhabited Dahinggan Mountains at least thousands of years ago, said Zhang Wei, director of the provincial institute of cultural relics and archeology, on Tuesday.
The paintings are scattered across 31 sites spread out over 167,000 square kilometers. They include images of humans and animals.
The humans are shown on their own or in groups, with some wearing feather headdresses. Among the depicted animals are wolves, dogs, horses, boars, deer, tigers and birds, as well as an s-shaped creature with four horns, which the researchers speculated may be a dragon.
It is believed the hunters drew the patterns with their bare hands, using mixed pigments, in the warm season. The researchers said the findings will help with studies of the culture of early humans.