The Palace Museum in Beijing will celebrate its 90th anniversary next month, and a batch of rare treasures will meet public eye in this rare viewing.
The Hall of Martial Valor and Palace of Prolonging Happiness (Yanxi gong) recently opened a special exhibition displaying nearly 300 pieces of treasures including paintings Along the River During the Qingming Festival and Five Oxen, and calligraphy piece Letter to Boyuan.
These treasures are hardly ever shown to the public. To better understand what's on display, here are 10 pieces of treasures among exhibited items that are highly recommended.
1. Along the River During the Qingming Festival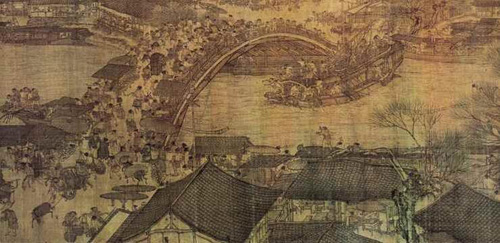 File photo
It's one of the ten most famous paintings in China and the most precious treasure of the museum. It's completely unrolled for the time since 2005. The painting will be on display for two months.
The work by Zhang Zeduan (1085-1145), measuring 24.8 centimeters wide and 5.29 meters long, depicts a flourishing landscape of Bianjing, the capital of the Northern Song Dynasty (960-1127).