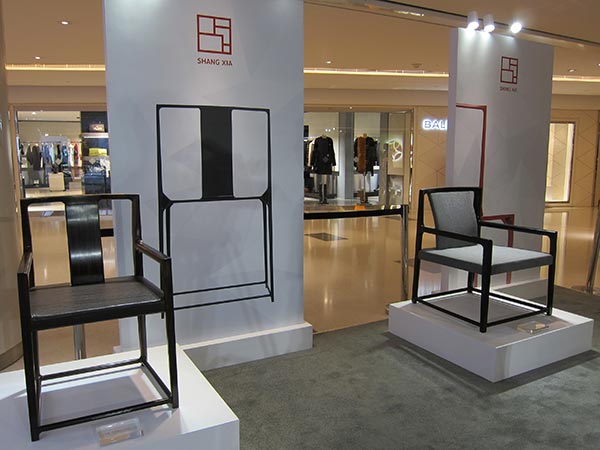 A series of reinvented Ming style chairs at the Shang Xia show 2. [Photo provided to chinadaily.com.cn]
A new Beijing exhibition offers a close look at several-hundred-year-old Ming Dynasty furniture and its reincarnations today.
Hermes' Chinese Brand Shang Xia has put together a Flying Chair exhibition in the capital that opened on Tuesday. It showcases the evolution from typical Ming-style chairs to 21st-century seats that stay true to the Chinese spirit.
Ming Dynasty furniture, simple and elegant, has long been considered the epitome of the country's ancient furniture. It features a rounded outside and square inside (which hints at the coveted personality of being gentle on the surface but stern at heart). It's also known for mortise-and-tenon joinery — so no nails or screws are needed for its joints.
Often made of sandalwood, Chinese pear wood and other woods in the past, Shang Xia's modern rendition of Ming-style furniture now adopts textures like leather and carbon-fiber; the latter is light enough to lift on a finger. It's also engineered to fit the human curve.
"We hope to carry on the Chinese tradition," said Jiang Qiong'er, Shang Xia's founder and artistic director. "At the same time, we also hope the traditions can fit into modern life today."
If you go
10 am-10 pm, through Sept 15. Underground Patio China World Mall, 1 Jianguomenwai Avenue, Beijing. 010-6505-6688.
Related:
Meet the man who creates and reshapes the country's cityscapes