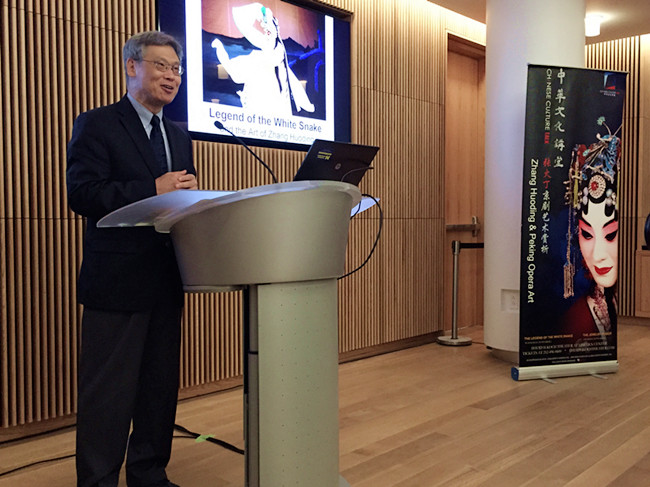 Professor David Der-wei Wang speaks on the origin and development of Peking Opera in his lecture. [Photo by Liang Bin/ For Chinaculture.org]
Last week, New Yorkers got an insiders perspective on the theme of Chinese opera megastar Zhang Huoding's artistic style and how she brought the Perking Opera to the Lincoln Center in New York City.
Before the highly acclaimed Zhang took the stage, two well-known professors of Chinese culture and literature hosted a conference at the Lincoln Center, attracting many Americans interested in the culture of Peking Opera.
Hosted by Ba Tu, headmaster of the National Academy of Chinese Theater Arts, and Fu Jin, well-known scholar, keynote speakers Professor David Der-wei Wang from Harvard University and Professor David Rolston from the University of Michigan shared their thoughts and ideas on the Perking Opera and Zhang Huoding.
Professor David Der-wei Wang told the origin and development of Peking Opera. By comparing Chinese operas to Western operas, he introduced the appropriate ways of enjoying Ms. Zhang's performance. He stressed that audience should applause at the highlights of the performance, instead of keeping quiet from start to finish like watching Italian operas.
Professor David Rolston listed the common and different points of Ms. Zhang's performance tour this year. He also spoke of Peking Opera artist Mei Lanfang's 1931 performance in the United States. He expressed his opinions on the impact of Chinese culture in the mainstream culture of the United States.
Members of the audience participated in a Q&A session, asking about artistic features of traditional Chinese operas, especially Peking Opera. The lecture received high praise from its spectators, cheering as if Ms. Zhang was on the stage performing.