World War II was the most brutal and costly conflict in history, involving more than 30 countries and causing deaths of tens of millions.
This year marks the 70th anniversary since the end of the war and the victory of Chinese People's War of Resistance against Japanese Aggression (1937-45).
Here we list films that recount history from different periods of time.
1940s
Casablanca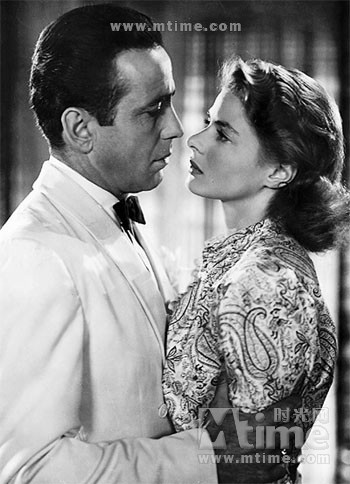 A scene from Casablanca. [Photo/Mtime]
Casablanca is a 1942 American romance directed by Michael Curtiz. Set during World War II, it focuses on an American expatriate Rick Blaine who is confronted with a difficult choice between love and social conscience.
Rick Blaine is the proprietor of an upscale nightclub and gambling den "Rick's Café Américain" in Casablanca, Morocco, which attracts a varied clientele, including German officials, Italians, and refugees desperate to reach the still neutral America. He receives two "letters of transit" by accident which allow the bearer to travel freely around the German-controlled Europe and to neutral Portugal.
Ilsa Lund, former love of Rick, walks into his establishment one day, accompanied by her husband Victor Laszlo, a renowned fugitive Czech Resistance leader. They need the letters to escape to America, where Laszlo could continue his fight. After learning why Ilsa left him without explanation, Rick's bitterness for her dissolves. He gives them the letters of transit and risks his life to help them escape.
The film won three Academy Awards in 1943, including for Best Picture.