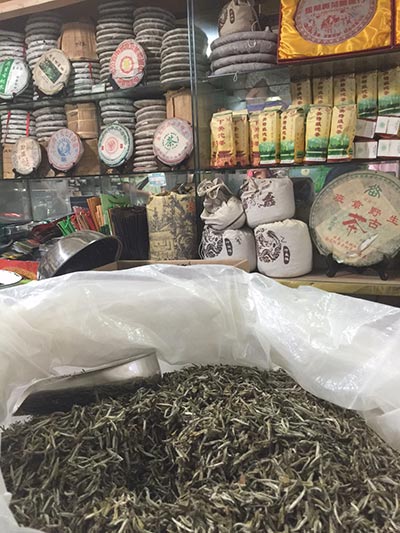 Staff members at a Maliandao store pack the just-arrived Xihu Longjing tea into small bags. [Photo/CFP]
Our visit to Beijing's big southside tea market, Maliandao tea city, unexpectedly starts off with a quiz.
"OK," says Phoebe Han, our guide for the day. "You all know tea is identified by color. How many colors of tea are there?"
There are about 10 people in our group-all expats, though two are Chinese-Canadian. Some of us suspect it's a trick question, but we're a small group-there's nowhere to hide.
We pool our ideas, and Han agrees with our consensus: Five.
"And what are they?"
"Green," we say. "Red. Black. White. Um ... yellow?"
Han looks up from the delicate cups she's rinsing with hot water and shakes her head.
Yellow is right, but she's not giving us both red and black. "They are the same tea," she says, grinning. The one we left out is blue-a new idea for most of us.
That wasn't the only surprise.
Our tour of the sprawling tea market will include stops at four shops, each color-coded so we'll sample a different kind of tea at each. Halfway through, we'll have lunch at a Fujian restaurant nearby.
We start with green tea, tasting a premium variety from Anhui province that Han explains is stir-fried after harvesting to dry it and bring out its flavors.