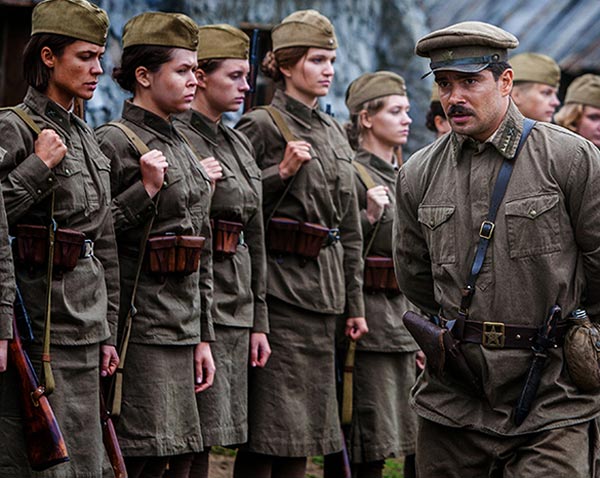 Senior sergeant Vaskov trains female soldiers as depicted in a scene from the film The Dawns Here are Quiet directed by Renat Davletyarov. [Photo provided to China Daily]
A remake of a 1972 Russian film has been tickling a generation's collective memory since hitting China's big screens on Tuesday to celebrate the 70th anniversary of victory in World War II.
The Dawns Here are Quiet tells the story of a senior sergeant of Soviet Red Army and five female anti-aircraft gunners, who courageously fight invading German troops in 1942.
The movie, nominated for the Oscar in the Best Foreign Language Film category, is based on an eponymous 1960s novella.
"No matter how many times Shakespeare's or Chekhov's works' are moved to screens, people will not be bored," the remake's director Renat Davletyarov told China Daily in Beijing last week. "That's the power of a classic."
The 54-year-old grandson of a Red Army fighter in the war is disheartened that the Russian cinema milestone is little-known among today's youth.
Davletyarov was initially hesitant to venture into the genre, since his previous works are comedies and family dramas.
But when he read that 85 percent of Russians between age 14 and 25 had never read the book nor seen the movie, the reboot became a calling.
"I would rather not call it 'remaking'," he says. "It's a newborn production."
The new film is more faithful to the novella than the original film, he says.
It maintains the sullen tone of the book's start-the film instead focused on the protagonist's initial happiness.
But he wrote an entirely new ending. Rather than finishing with Vaskov recalling war stories in front of tombs as did previous versions, the new film signs off by showing five new women signing up for the military. The director believes this reminds people war's cruelty continues despite sacrifice.