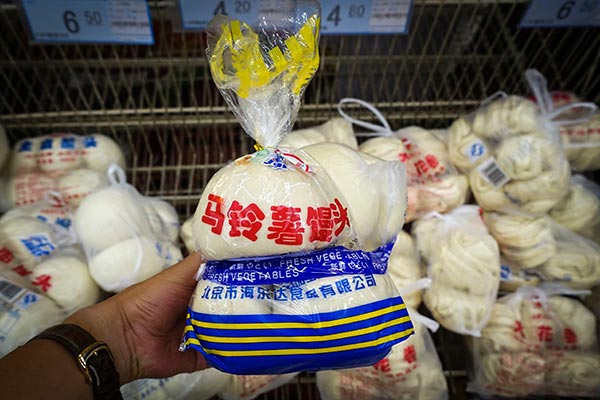 A Beijing supermarket sells steamed buns containing potato flour. The new steamed buns are the brainchild of researchers following a national strategy to make potato a staple food after rice, wheat and corn. [Wang Zhuangfei / China Daily]
Steamed buns containing about 30 percent of potato flour have become a new staple choice in more than 200 supermarkets in Beijing recently, following China's national strategy to make potato a staple food after rice, wheat and corn.
The country will see 50 billion kilograms of new food demand by 2020, but has a shortage of farmland and it is also difficult to improve the yield of wheat and rice, according to Chinese reports. Because the potato can survive in cold, drought and barren environments, it has becomes an attractive food alternative.
Priced at 5.8 yuan (93 cents) for a package of three, they are a little more expensive than traditional wheat-flour steamed buns, China's version of bread. Between 500 and 600 packages of the new potato steamed buns are sold each day, according to Li Lianggong, deputy general manager with Beijing Haileda Food Co, the largest staple food manufacturer in Beijing, which launched the new products in June. That's about 1 percent of the company's steamed-bun sales, he says.
The potato steamed buns taste of both wheat and potato, although they look yellower and seem a little drier than steamed buns with pure wheat flour, supermarket tasters were quoted in Chinese media reports.
The new steamed buns are the brainchild of researchers with Institute of Food Science and Technology under the Chinese Academy of Agricultural Sciences, which produced more than 12,000 "failed" buns since late 2013 before they got the formula just right.
Haileda started paying attention to potato flour after the Ministry of Agriculture early this year announced its mission to grow more potatoes.
By that time, the research team of five had succeeded in developing recipes for bread, steamed buns and other staple foods made with potato flour. Transferring the technology to the company and producing buns on a large scale was challenging, though-most of the equipment was designed for usage of wheat flour, which is stickier and easier to ferment than potato flour, according to researcher Mu Taihua.
But steamed buns made with potato flour could be even whiter and tastier than wheat ones, Mu says they found through experiments. He adds that potato flour provides better nutrition than wheat: more vitamins, dietary fibers and trace elements, but less fat.
"Our experiments show that steamed buns made with 30 percent potato flour have at least 1.3 times as much antioxidants as pure wheat-flour steamed buns of same weight," Mu says, noting that antioxidants have anti-aging properties.
However, both Mu and Li admit most Chinese are still skeptical about steamed buns containing potato flour, despite its potential health benefits. They hope people be more positive about potato buns once the new product is more familiar.
The company also plans to launch more staple foods made with potato later this year, such as bread, steamed buns stuffed with bean paste, and desserts, for distribution in the capital area.
Related: