Peace is not the product of a victory or a command.
It has no finishing line, no final deadline, no fixed definition of achievement.
Peace is a never ending process, the work of many decisions.
Union organizer Joe Hill once said, "A pamphlet, no matter how good, is never read more than once. But a song is learned by heart and repeated over and over."
Joe is right. Songs we sang tell a lot about who we are, and also what we have always believed in. So, if you happen to be a pacifist and want more people to hear you, why not let the songs speak?
As this year marks the 70th anniversary of victory in the Second World War (1939-1945) and the 40th anniversary of the end of the Vietnam War (1955-1975), we have chosen some popular English and Chinese songs that take on war and peace as subjects.
The songs include those that envisage the brutality of war, songs that tell stories behind war and songs that arouse the wish for the elimination of war. Hopefully, these songs for peace will create a worldwide community of peace seekers.
1. Songs that tell stories from war
8th of November by American duo Big & Rich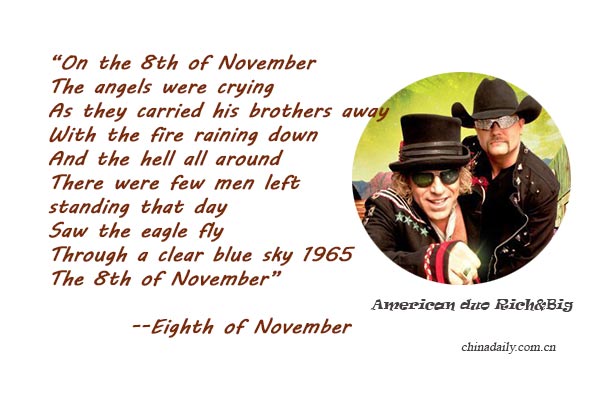 [Photo/chinadaily.com.cn]
8th of November, released in May 2006, is a song written and recorded by American country music duo Big & Rich. The song tells the tale of Niles Harris, a soldier in the 173rd Airborne Brigade of the United States Army during Operation Hump in South Vietnam on Nov 8, 1965. The music video starts with Kris Kristofferson introducing the story, and then cuts to the duo performing in front of a large screen showing the visuals of Harris life.