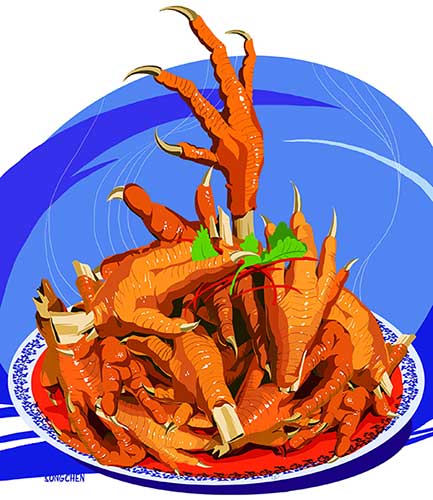 [Photo by Song Chen/China Daily]
OK, they can be crunchy and weird to Western palates. But if you are an expat here to experience China, maybe you shouldn't miss out on Chicken McKnuckles, Mike Peters suggests.
My British friend Craig arrived in China with no fear of chicken feet.
"I used to eat them in Chinese restaurants in the UK when I was a young man," he says. "A BBC (British-born Chinese) friend introduced them to me when I lived in Manchester. They were done in this delicious Cantonese sauce and I loved them.
"So, when I came to China and someone asked if I wanted to try chicken's feet in a rather rough-and-ready restaurant, I immediately boasted that I was already a big fan."
When he sat down at the table, however, things got ugly.
"What I had been expecting-tender feet in a nice sauce-was in fact a pile of what appeared to barely cooked feet, unseasoned, no sauce, and worse-not manicured. Like they'd just been ripped off the chicken. I choked down one and that was it."
He told his perplexed Chinese friends that he hadn't thought to bring nail clippers to dinner-"which they found amusing".
Most foreigners who come to China have little experience with ji jiao, which are also more glamorously called feng zhua (phoenix claws), though the all-knowing Wikipedia tells us that they are served up in Indonesia, the Koreas, Malaysia, Trinidad and Tobago, Ukraine, Russia, Romania, Moldova, Jamaica, South Africa, Peru, Mexico, the Philippines and Vietnam as well as here in China. But I suspect none of those countries embraces chicken feet with the same enthusiasm cooks do in China.