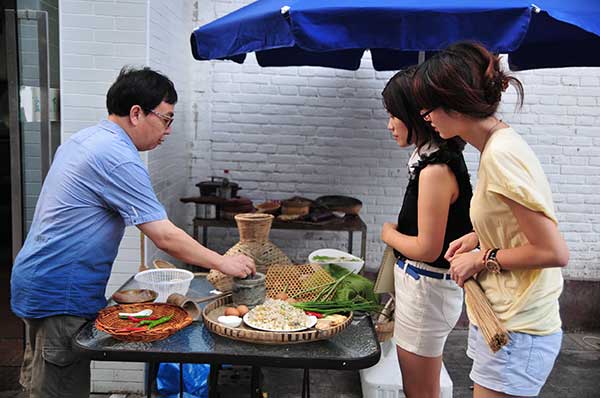 Poet and food critic Er Mao shows off traditional handmade foods of his hometown, Chongqing, to visitors at his restaurant in Beijing.[Photo provided to China Daily]
Poet and food critic Er Mao now lives in Beijing, but the 53-year-old often travels to his hometown, a small county in Southwest China's Chongqing municipality, to bring its local flavors back to the capital.
He often holds parties in his two Lord of Salt restaurants, Sichuan-style eateries in the 798 and Nanxincang areas, to treat his friends with authentic handmade foods that are not on the restaurants' menu, such as stewed pork trotters and tails, and sauced dry beef.
A few days ago, Er Mao, whose real name is Mou Zhenli, started selling such food online, through Taobao.com and WeChat, and says that in doing so, he hopes to protect such food traditions from extinction.
"The Internet is a great channel to get these handmade foods to people beyond my friend circle," Er Mao says, "and to everywhere in China.
"When more people know about them and love them, the traditional craft of making these foods by hand may help local people make money, and will get passed on."
Many such food traditions are dying, he says, because young people don't want to learn the complicated methods in an era of ready-to-eat food.
Born in 1962 in a military officer's family, Er Mao's childhood dream was to become a great poet, and now he says there are two things indispensable in his life: beautiful poetry and delicious food. He proudly remembers making tasty fried rice at the age of 8, under the direction of his mother.
In 1987, a young heart's love for food and pursuit of worldly success led him to open a hotpot restaurant in his native Chongqing, along with a poet friend. By 2005, he had opened three restaurants in Chongqing and Chengdu, eager to make creative versions of "household dishes" popular on his menu.
The delicious food and Er Mao's hospitality attracted poets, writers and painters, such as novelist A Lai, poet Wan Xia and painter Zhou Chunya.
After learning to run restaurants and developing a reputation for a decade in Chengdu, he moved to Beijing in 2005 for a bigger world of poetry and food.
In 2007, he opened the first Lord of Salt in Beijing's 798 Art Zone with a partner, which naturally became a new place to gather together his friends to enjoy food and books.