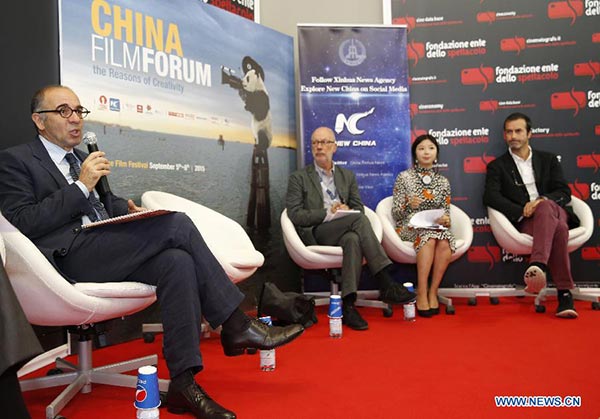 Italian director Giuseppe Tornatore (1st L) addresses the 2nd edition of China Film Forum on the sidelines of the 72nd Venice Film Festival at Lido island in Venice, Italy, Sept 6. [Photo/Xinhua]
Giuseppe Tornatore, one of Italy's most influential directors, expressed strong interest in Chinese films at the second edition of China Film Forum that took place Sunday on the sidelines of the 72nd Venice International Film Festival.
Tornatore, Oscar winner for best foreign language film in 1990 for his film Nuovo Cinema Paradiso (New Paradise Cinema), told Xinhua in an interview that he is interested in collaborating with China's cinema. "Though nothing concrete has been decided yet, there are ongoing talks," he said.
He said the forum, supported by Venice Days and Xinhua, an event at the film festival aiming to draw attention to high quality cinema, looked "extremely interesting" to him.
"Italy and China are trying to deepen their collaboration in the cinema field, and therefore I wanted to participate in this forum," he said. "I myself made a little work some years ago in Beijing and it was a wonderful experience," he added.
Tornatore wished collaboration between the two countries will be further enhanced, because "the Italian cinema has an important history, but the Chinese one is extraordinary and is going through a period of great force and energy, thus it would be beautiful to find new collaboration space."
He noted there are not many other countries in the world in which new cinema theaters are continuously opening. "Usually what happens is the contrary, therefore for cinema lovers like me China today looks like a wonderland, with countless audiences and thousands of cinema theaters and a really important market strength," he pointed out.
"Therefore we have many things to learn from China and likely also many things to teach to China, in fact I believe the Italian and Chinese have several points of mutual attraction," Tornatore went on saying.