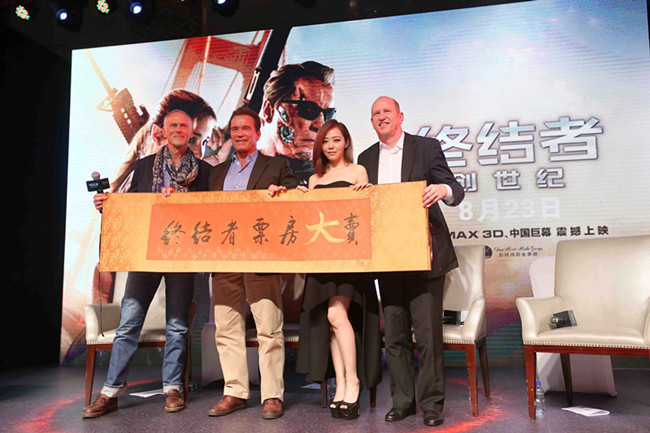 Arnold Schwarzenegger (second from left) attends a media event to promote his latest Terminator Genisys in Shanghai. [Photo provided to China Daily]
Arnold Schwarzenegger's most famous line - "I'll be back" - from his first Terminator role, may be replaced by a new one this summer.
"I'm old, but not obsolete."
The robot T800 played by Schwarzenegger repeats this sentence several times in the latest installment of the Terminator series, which appears more like a response to the real world.
Since Terminator Genisys (Terminator 5) premiered on the Chinese mainland on Aug 23, it topped the box office, making 526 million yuan ($82 million) until Monday.
It seems the 68-year-old action star and former governor of California still has the power to win the Chinese market even though the movie bombed in the United States.
The movie opened in North America on July 1, but to date has earned a meager $90 million in the US.
It surprised Western reviewers that the movie's eight-day box-office stint in China almost equaled two months of ticket sales in the US.