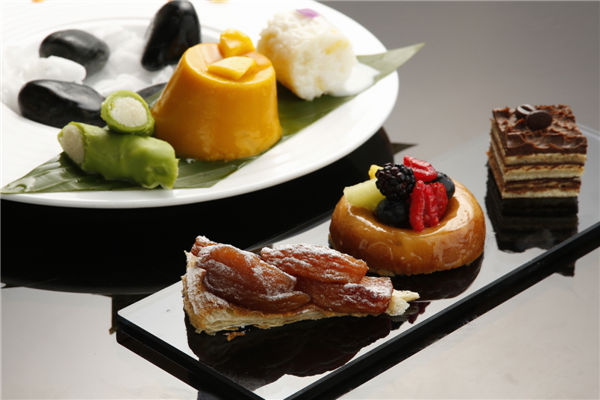 Desserts of both Western and old Beijing's hutong style at Vic Bistro. Photos by Liu Zhihua / China Daily
Simple flavors recalled from our youth are the heart of a new menu that highlights old Beijing's hutong cuisine. Liu Zhihua tucks in for a tasting.
The foods we love most are often the authentic home flavors remembered from childhood. That's exactly why the chefs at Vic Bistro - an international team - have reached back into their own pasts to offer dishes not only from French-style bistros and Indian kitchens but also old Beijing's hutong (alley) cuisine.
These dishes have their roots in the Chinese capital's hutong lifestyle. The plates are quite downscale in contrast to upper-class imperial cuisine, served to the royal families, and guanfu cai, literally "cuisine in officials' houses", which used to be served at official banquets.
The nine cold dishes and 12 hot dishes on Vic Bistro's menu are chosen from hundreds of hutong cuisine dishes, including duck feet with mustard sauce, Peking roasted duck, deep-fried pork meat balls, and roasted Mongolian lamb with garlic and chili. As a group, they beautifully represent the essence of their tradition, says Su Xianmei, Vic Bistro's chief chef of hutong cuisine.
The restaurant at Sofitel Wanda Beijing once served a buffet all day.
The acronym VIC stands for Voyage of International Cuisine.