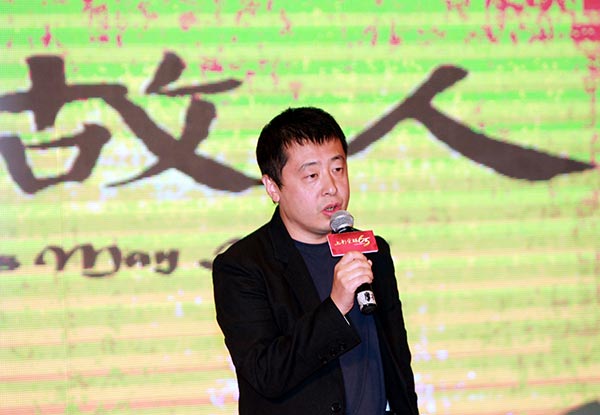 Director Jia Zhangke introduces his movie Mountains May Depart at a news conference in Shanghai. The movie is among 13 Chinese films scheduled for screening in the Toronto International Film Festival this year. [Photo/Xinhua[
Chinese filmmakers once again came under the spotlight at the Toronto International Film Festival as the annual event kicked off its 40th year on Thursday.
Festival fever descended upon the Canadian metropolis when Jake Gyllenhaal and Naomi Watts graced the red carpet at Roy Thomson Hall for the world premiere of Demolition, a much-anticipated feature from Oscar-nominated Canadian director Jean-Marc Vallee.
Thirteen Chinese films were scheduled for screening during the 11-day festival, which will line up about 400 films from over 70 countries and regions this year. Among them are Mountains May Depart by Jia Zhangke, Office by Johnnie To, Paths of the Soul by Zhang Yang and The Promised Land by He Ping.
Giovanna Fulvi, TIFF programmer for East Asia, believes that the new work by Zhang Yang shot in Tibet is "a very special film" and The Promised Land is "a very interesting subject matter".
"Chinese films are unique and powerful with immense culture, and it's a driving force to China's economy, a vital film industry," Fulvi said. "Audiences in the West have more and more interest, and I believe more Chinese films will be imported into North America."
For nearly two decades, the Toronto film festival has developed a fondness for Chinese films. "Zhang Yang's Shower was discovered here in 1999, and all the years since we have been following the works of major Chinese directors," Fulvi said.